Laminated glass is one of the most popular products on the market—and for good reason. With its superior strength, variety of thicknesses and layers, and endless decorative options, laminated glass is the perfect choice for safety-first and decorative uses in all kinds of commercial and domestic applications.
That said, laminated safety glass isn't for everyone. To help you decide whether this type of glass product is best for your project, we've put together a short guide. Read on as we explain what is laminated glass and some of the key features, including when to use it and how it differs from toughened glass.
How is laminated glass made?
Laminated glass is made by adhering two or more regular sheets of glass with a flexible PVB (polyvinyl butyl) interlayer. This is achieved by a heating and bonding process that conjoins the different layers to form a single glass sheet.
The main benefit of this type of glass is its strength. It is widely used for safety and security purposes, to the point where you'll often hear it referred to as "laminated safety glass". Because of the VB layers bonded to the glass, if the glass is somehow broken, it will still hold in place. As an added bonus, the PVB interlayer makes the glass hard to breach, even when broken.
At our glass processing plant in Portsmouth, we create laminated glass sheets using either PVB or EVA (ethylene-vinyl acetate) as the interlayer. Our technicians heat and compress the layers with a specialist machine that bonds the glass to the PVB or EVA—like a sandwich that turns into a toastie.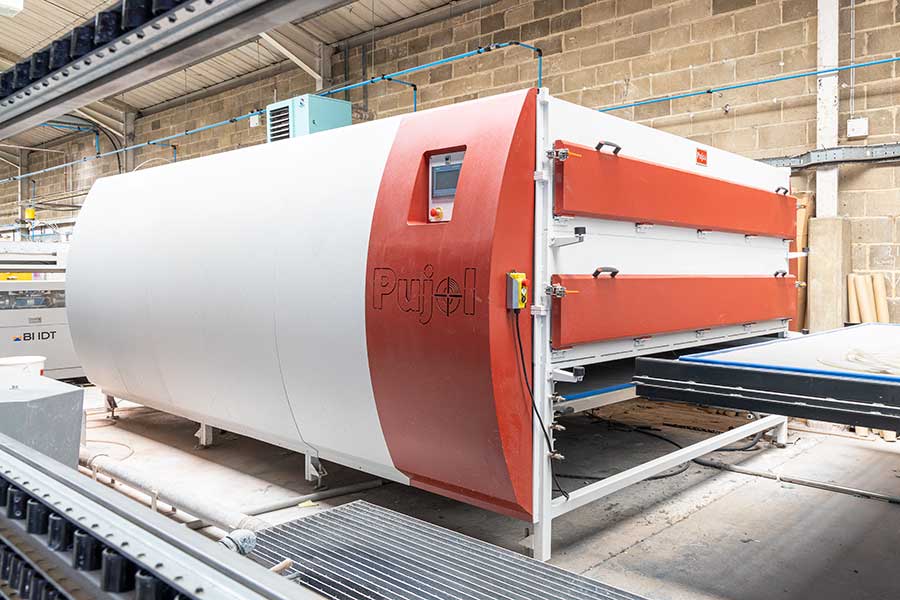 The beauty of this process is that it works for a variety of glass thicknesses and layers. This means we can create laminated glass for all kinds of applications, from glass partition walls and balustrades to glass staircases and floors.
How does it differ from toughened glass?
Laminated and toughened glass are both popular choices for safety. Both can be cut, shaped, and drilled (prior to toughening) to suit all kinds of safety-first applications. But toughened glass is processed differently, and as such, it behaves differently when broken.
Toughened safety glass is heat-treated not only for strength, but to ensure that, if broken, the glass shatters into extremely small pieces. UK safety standards for toughened glass dictate that the glass should break into parts no more than 5mm wide. This ensures that the small parts do not cause serious injury, unlike large shards.
Laminated safety glass is just as robust as toughened glass. However, it does not have to undergo a "toughening" process in the manufacturing stage. Instead, the PVB interlayer bonds the glass together, holding the panel in place when broken and preventing serious injury.
Laminated and toughened glass can also be combined for a maximum-strength panel. At abc Glass, we do this by laminating the glass "sandwich" in the normal way, but also using toughened safety glass either side of the PVB.
Popular uses for laminated safety glass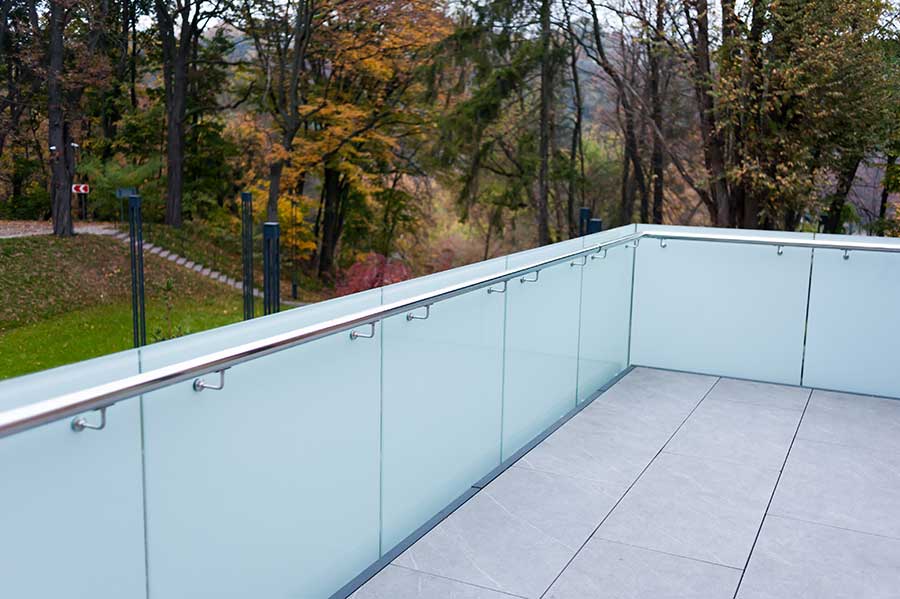 The process of laminating glass has been widely used for safety applications ever since Henry Ford started adding it to Ford car windscreens in 1919. Nowadays, laminated windscreens are standard fitment for vehicles all over the world.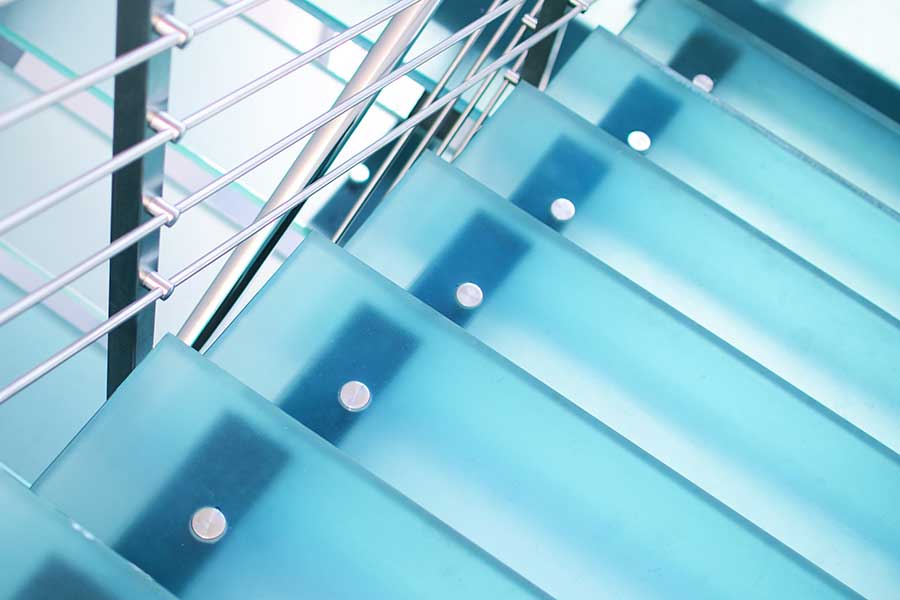 As for domestic or commercial design uses, laminated glass crops up in virtually every application where safety is a priority: balustrades for balconies, swimming pools, and staircases; glass flooring; glass stair treads; glass canopies; glass partition walls; and windows and security doors. This is a testament not only to the strength of this product, but also its versatility.
Decorative mesh glass
Laminating glass with coloured, fabric or mesh interlayers also offers designers a chance to get creative. Coloured glass (usually blue, green, or grey) is popular with colour added either by using coloured glass panels or by adding a tinted PVB layer. We often recommend the latter, as a coloured interlayer provides many more colour and tint options than a regular glass panel.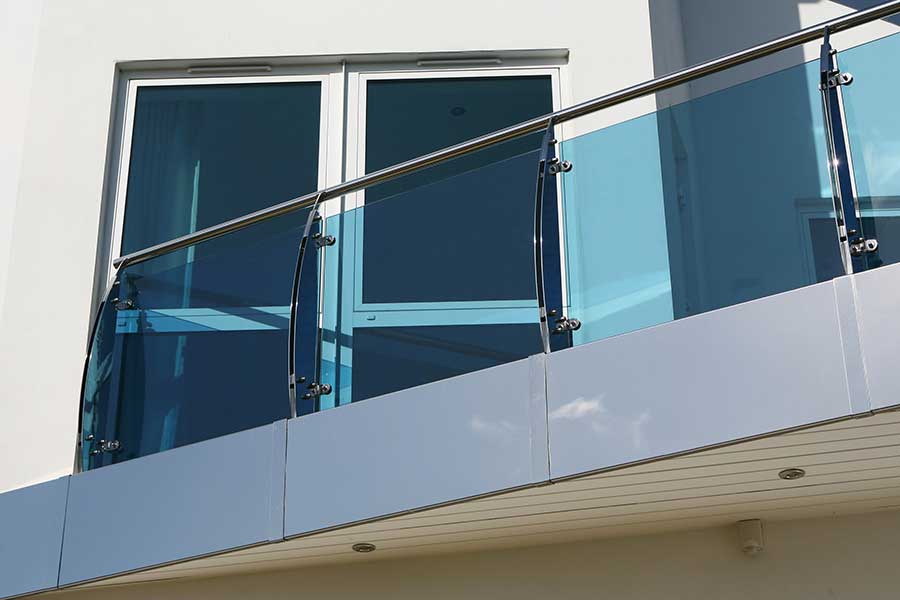 Designers can also use frosting or sandblasting for a decorative effect. This comes in the form of a sandblasted PVB interlayer, which creates a layer of privacy in spaces such as bathrooms, private offices, or hallways.
Taking the decorative laminated glass theme further, our technicians can also add decorative mesh or fabric interlayers to accommodate an almost unlimited range of striking effects. This can take the form of swirling patterns, geometric shapes, nature-like textures, and more. This relatively new product allows designers to use glass panels to striking effect. Wall cladding, shower screens and glass partitions are just a few of the possible applications for this exciting product.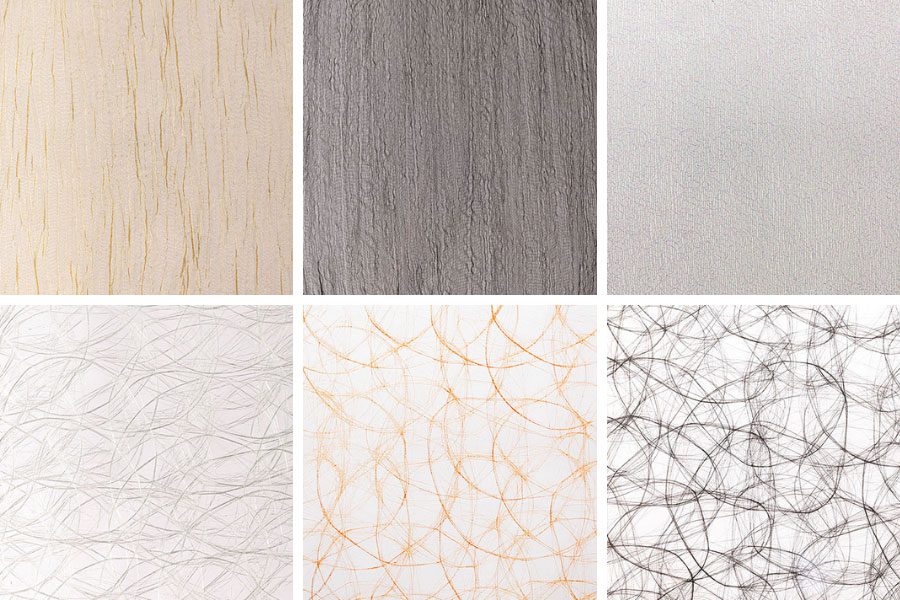 If you're thinking about using laminated safety glass for your next project, abc Glass can help. We specialise in cutting and shaping custom laminated glass panels to suit all kinds of spaces, from glass balconies and floors to glass doors and partition walls. We also offer a decorated laminated glass service, with many patterns and textures to choose from.
For any questions about our laminated safety glass products, as well as pricing and delivery, please get in touch via phone or email.