ABC Glass Processing
Glass Painting
Whether you're a luxury home builder or an interior refurbishment specialist, our state-of-the-art glass painting service is a must-try. After all, not every customer wants tiles or the upkeep they entail. Instead, your clients can benefit from tailor-made glass splashbacks, shower wall cladding and worktops featuring their preferred colour and finish. Find out more below.
Glass Painting
Bespoke glass painting & spraying
Back painted glass provides a sleek, hygienic and hard-wearing alternative to tiles and grout. Predominantly featured in kitchens, bathrooms and utility areas, each glass panel is toughened for heat resistance and to prevent shattering. From there, your seamless glass splashback or larger panel can be custom painted to complement any colour scheme.
Our state-of-the-art GlassKote system employs computer colour-matching technology to achieve the perfect shade every time. Choose any solid or metallic RAL paint colour and we'll replicate it exactly, without losing any of the colour's fullness. There's also the option to add a sparkle finish with either silver or rainbow flecks for a little extra something.
As well as looking great, your client can rest assured that our glass painting will stand the test of time. The paint adheres to the back of the glass to create a robust finish protected from cosmetic damage. As such, you can position our back painted glass in high-humidity environments behind hobs, sinks and showers, without the risk of peeling paint.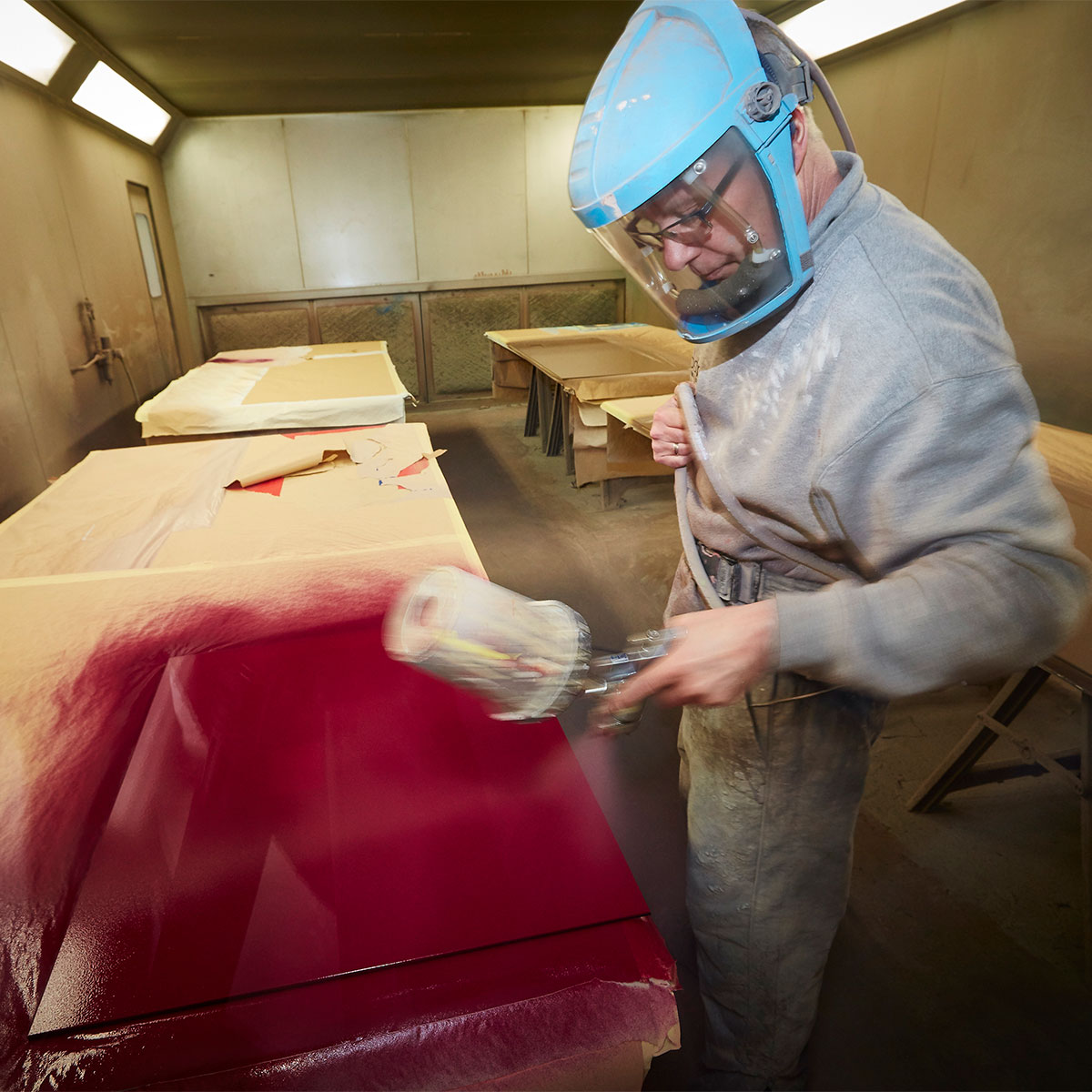 Started using abc glass end of 2021. I have to say that service, delivery and quality have been excellent and, compared with our previous supplier, their prices are very competitive. Highly recommend.

Peter Briggs

ABC glass processing are a fantastic glass supplier, well organised, very helpful and competitively priced. The attention to detail and quality of glass is also second to none.

Thomas Haynes

Fantastic reliable service of quality products. Office staff are always very helpful and knowledgeable, Sarah in sales is amazing !!! Just the perfect company to deal with.

Matt Walbridge

Always a fantastic service! They go above and beyond to help you get the job done. My go to supplier for glass.

Shaun Bell

Great Company to work with, great service, quality and competitive prices. Thoroughly recommend them.

Tony Rix

Excellent – will always help if they can. Good product, good price, good knowledge.

Jules G

Just had delivered the glass to replace my staircase with glass panels. Very helpful, good value for money and delivered exactly when promised, thank you.

Darren Logan

Glass Painting

Learn about our glass painting services

For more information about our advanced glass painting service, please view the expansion panels below or contact us.

The glass painting process

Interested in how our in-house glass spray painting process works? Here's what's involved:

Firstly, the glass is cut to size based on your measurements and desired thickness.
Then, cut-outs for fixtures and fittings like plug sockets and brackets are created using a CNC or waterjet for accuracy.
Next, the glass is toughened to European standard EN12150 for safe interior use.
The glass is then spray painted in a large paint booth, before being baked at a high temperature. This melds the colour treatment to the glass and cures it for durability.
Lastly, your painted glass goes through a rigorous quality control process. This involves checking for any marks or missed spots to ensure it meets your customer's expectations.

What glass painting services do we offer?

Glass supply and painting service – whether you need a single decorative glass panel or you've got a bulk order to place, abc Glass Processing can help. We supply toughened back painted glass up to 2.5m x 3.5m in size and from 4mm-19mm thick for different applications. This includes cooker splashbacks, worktops, seam-free shower wall cladding and more. Better still, there are thousands of colours available to suit your client's taste, from vivid hues to soft neutrals. Plus dazzling glitter finishes too! And all of this is possible thanks to our advanced GlassKote paint system designed by an industry-leading Australian company with over 40 years' experience in the trade.

Full glass process, machining and toughening services – our glass painting service also covers all in-house processing and machining. This includes cutting the glass the size and shape required and drilling holes to accommodate fittings. In addition, all interior glass is toughened to meet legal safety standards and the edges are polished for a neat, smooth finish. Bevel detailing can also be added if desired.

Glass splashback measuring and installation service

Recommended back painted glass to protect a customer's bathroom or kitchen walls from moisture and grime? Great choice! However, if you aren't comfortable fitting the panels yourself, you've come to the right place. As well as supplying all kinds of painted glass, the abc Glass Processing team offer a measuring and installation service on splashbacks too.

Provided your client lives within 30 miles of our Portsmouth factory, we'll visit their home to determine the size required. We'll then create a template and use it to produce decorative glass panels in their chosen shade to fit. Once completed, we'll return to install them at an agreed date and time, eliminating any errors and unnecessary mess for best results.

Delivery of our back painted glass products

At abc Glass Processing, we pride ourselves on our fast turnaround times on all of our custom glass products. In fact, most glass painting orders are processed and delivered direct to your client's home or business within 7-10 days. We also have our own fleet of vehicles and expert fitters to ensure your products are delivered and installed with care.

Better yet, we offer free delivery across central southern England. Check the map below for the areas we cover regularly, or contact us regarding bulk orders to addresses further afield.