ABC Glass Processing
Glass Mirrors Cut To Size
Looking to incorporate mirror glass into a bespoke furniture design for a customer? Been tasked with adding full-length mirrors to a commercial client's gym? Or perhaps you're a bathroom installer seeking a way to brighten up a dingy cloakroom toilet? Whatever the case, abc Glass can supply high quality mirrors cut to size in a range of shapes and finishes.
Custom mirrors in any shape & size
Silvered, antique and tinted styles for every scenario
Whether you're after large frameless mirrors or small tinted mirrors with bevelled trims, our skilled technicians can help. Choose from 4mm or 6mm thick bespoke mirrors to suit their purpose and placement. Standard silvered mirrors are a versatile option and work well in most settings, including bathrooms and kitchens that lack light. We also stock distressed mirrors to fit vintage décor schemes, alongside tinted grey and bronze mirror glass too.
Whichever your client prefers, each made to measure mirror is backed with a protective foil backing. This helps to prevent breakages and preserve the reflective finish, even when glued directly to the wall in place of tiles. Plus, thanks to our advanced CNC and waterjet cutting machines, we can produce premium mirror glass in practically any shape.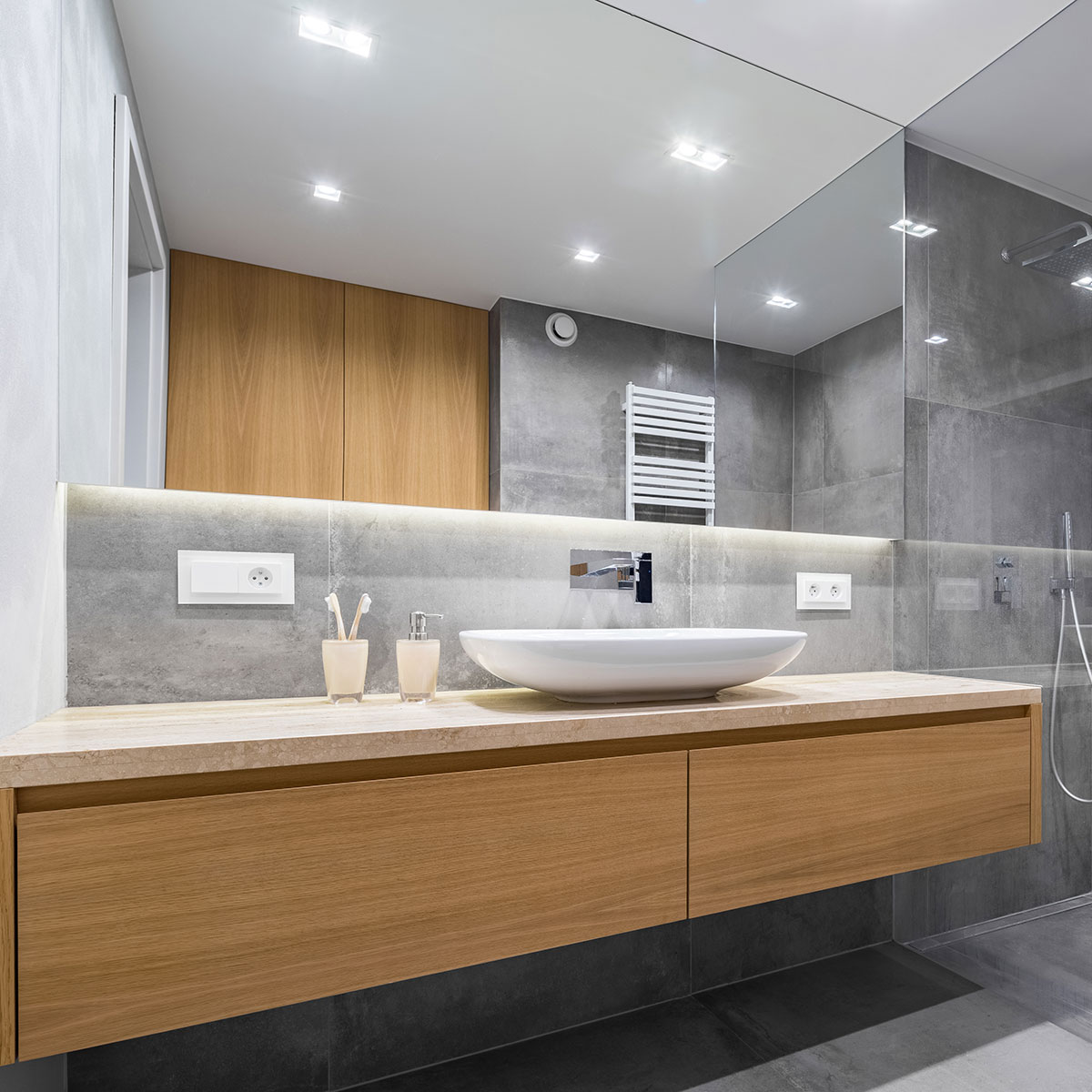 From classic rectangles and ovals to more complex designs, our custom mirrors are cut to size from templates for accuracy. The edges are then polished for safety and cut-outs can be made to accommodate fittings and sockets. On top of that, we offer like-for-like replacement mirror glass to repair broken mirrors. This includes ageing the glass accordingly, if desired.
Want to add dimension to your mirrors? Experts in creating bespoke mirrors cut to size, we are also one of only a few glass processors to offer hand bevelling. As such, we can taper the edges of round and intricate mirror glass, alongside machining straight edge designs.
In short, abc Glass is your one stop shop for mirrors cut to size, no matter the project.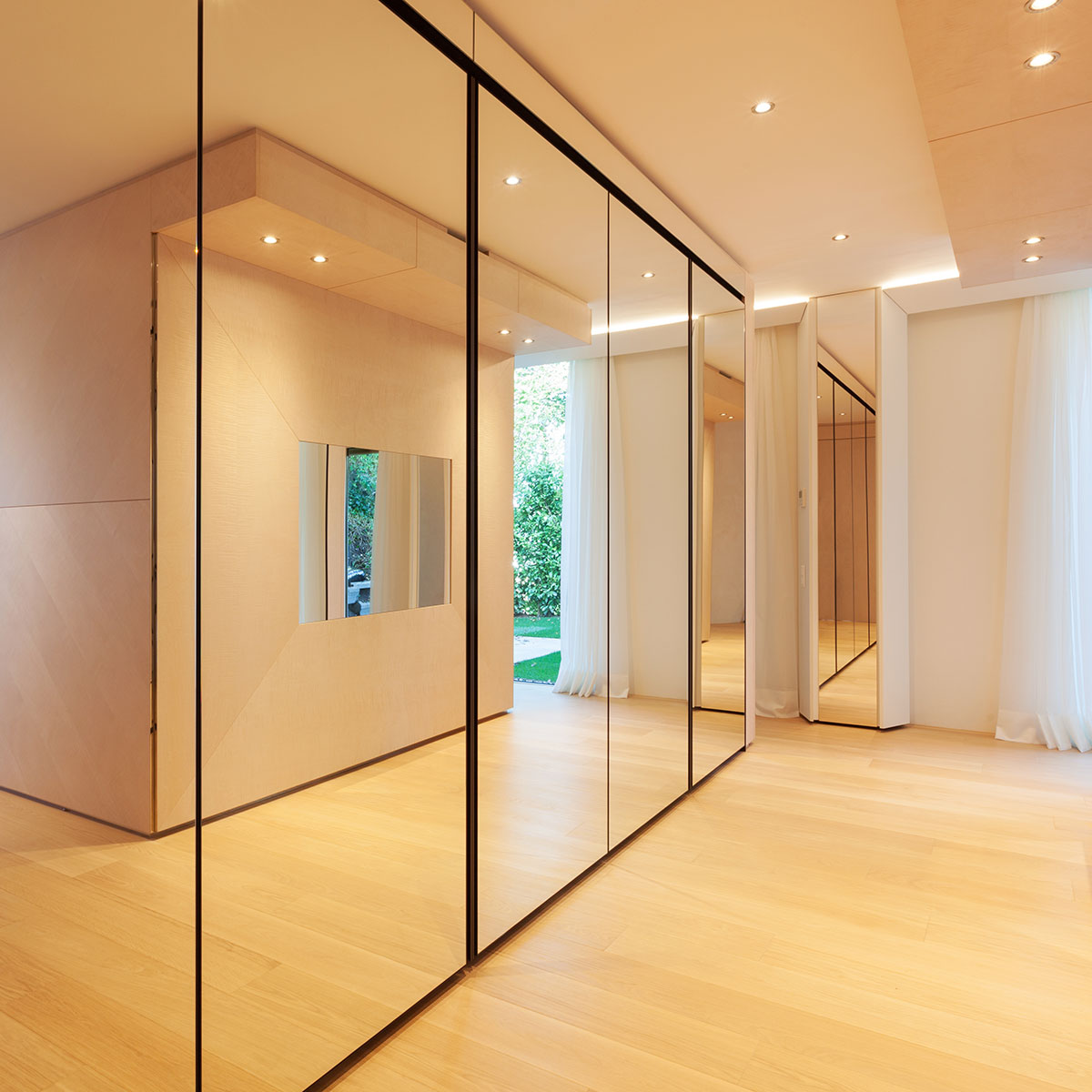 Started using abc glass end of 2021. I have to say that service, delivery and quality have been excellent and, compared with our previous supplier, their prices are very competitive. Highly recommend.

Peter Briggs

ABC glass processing are a fantastic glass supplier, well organised, very helpful and competitively priced. The attention to detail and quality of glass is also second to none.

Thomas Haynes

Fantastic reliable service of quality products. Office staff are always very helpful and knowledgeable, Sarah in sales is amazing !!! Just the perfect company to deal with.

Matt Walbridge

Always a fantastic service! They go above and beyond to help you get the job done. My go to supplier for glass.

Shaun Bell

Great Company to work with, great service, quality and competitive prices. Thoroughly recommend them.

Tony Rix

Excellent – will always help if they can. Good product, good price, good knowledge.

Jules G

Just had delivered the glass to replace my staircase with glass panels. Very helpful, good value for money and delivered exactly when promised, thank you.

Darren Logan

Mirror Glass

Learn more about mirrors cut to size by abc Glass Processing

Use the expansion panels below to learn more about our mirrors cut to size and associated services

What type of mirror glass can abc Glass produce?

Our talented team can provide a wide range of mirrors cut to size. Here are some examples:

Silvered mirrors – standard polished designs (often referred to as silver mirrors)
Antique mirror glass – aged glass that can be used to fix broken/ vintage mirrors
Floor to ceiling mirrors – a light-reflecting, contemporary take on wall cladding
Frameless mirrors – sleek design with no outer frame and polished edges for safety
Mirrors for display cabinets – to slot into the back of new or existing cabinets
Gym mirrors – full-length designs that can be safely bonded directly to the wall
Bathroom mirrors – for splashbacks, wall cladding or the front of storage cabinets
Custom-shaped mirrors – any shape based on either DXF files or hard templates
Replacement mirror glass – to repair broken framed mirrors/ update a retro model
Mirrored splashbacks – can be used behind sinks and beneath kitchen wall cabinets to reflect light and create the illusion of more space.
Bevelled mirrors – mirrors with a ground and polished angled bevel applied to the outer edges of the mirror.

Note: mirrored splashbacks are not toughened and should not be fitted behind hobs/ stoves.

What other bespoke mirror services are available?

We can deliver your bespoke mirrors

We offer a free delivery service for custom mirrors and glass to retail and commercial customers in central and southern England. The map below shows the areas that we deliver to regularly. We are also able to travel further afield for large orders, please contact us if you have questions about our delivery service.

Mirrored splashback installation service

If you are interested in mirrored glass splashbacks, we offer a measuring and installation service for customers living within 30 miles of our glass processing facility in Portsmouth. Below is a map showing the approximate areas served by our installation team. Please view our glass splashbacks page for more information, or contact our sales team, who will be pleased to help you.