abc Glass Processing
Bevelled Mirrors & Glass
Whether you are looking to add Georgian style glass doors to a grand building or you are hankering after beautiful bevelled mirrors as a statement piece, abc Glass Processing can meet your needs with supreme bevelled mirrors and glass cut to size.
Bevelled Glass
Bevelled mirrors & glass cut to size
With our two top-of-the-range bevelling machines, and team of glass experts, we can produce bevelled mirrors and glass in bespoke shapes and sizes. With our years of expertise, we are also one of the only glass processors in the UK still to offer hand glass bevelling for intricate and irregular shaped glass.
Bavelloni has been producing innovative and reliable flat glass grinding equipment for over 70 years. Our Bavelloni B73 is a whizz at creating straight-line edge bevels while the Bavelloni SB10 semi-automatic is our go-to for our custom-shaped edge grinding work.
We can also create a bevelled glass finish to simple shapes, such as circles and ovals, as well as more complex shapes in widths ranging from 6mm to 40mm. The more intricate bevel cut shapes might be executed by hand so that our master craftsmen can maintain more control and precision for each unique piece. Our service also includes glass toughening if required.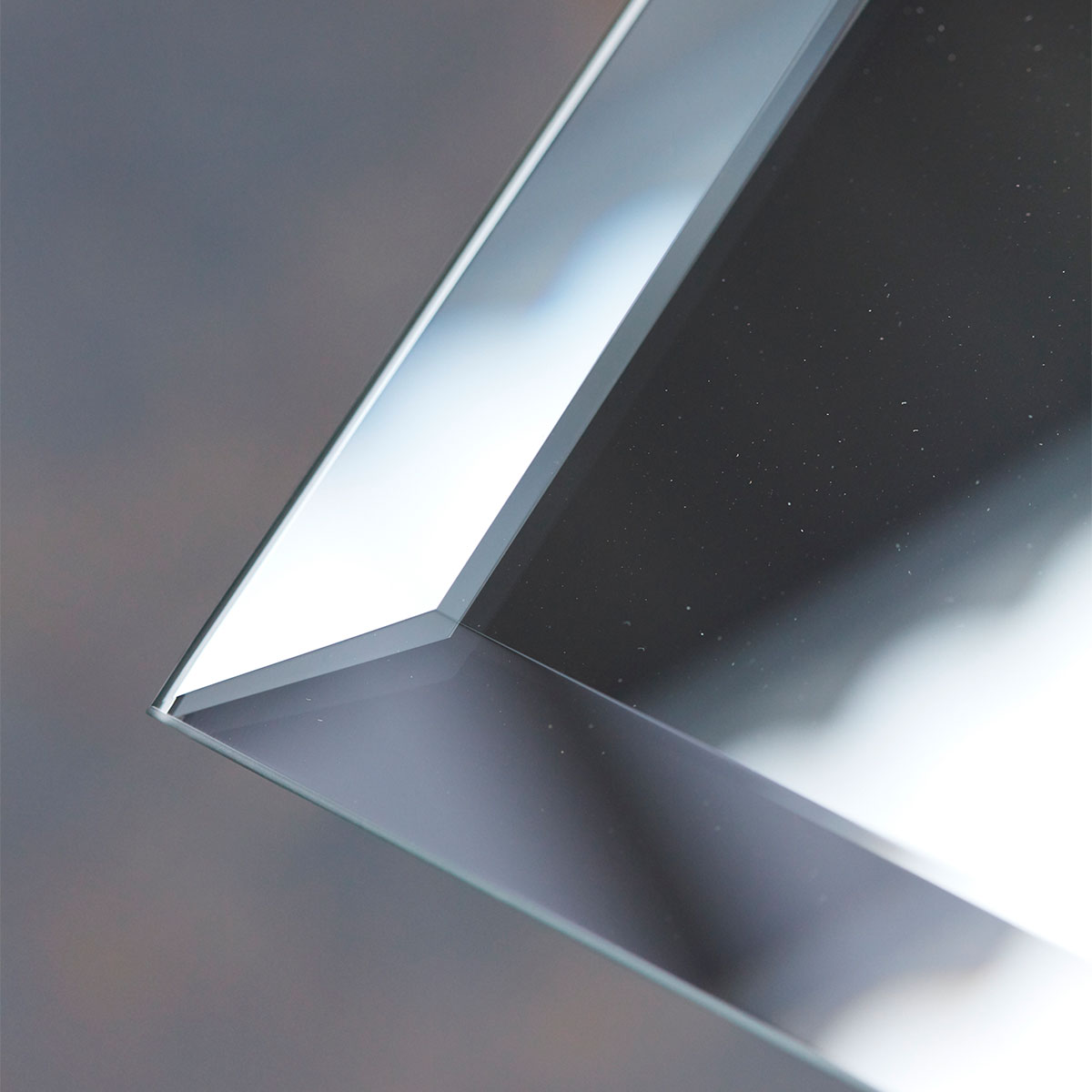 Started using abc glass end of 2021. I have to say that service, delivery and quality have been excellent and, compared with our previous supplier, their prices are very competitive. Highly recommend.

Peter Briggs

ABC glass processing are a fantastic glass supplier, well organised, very helpful and competitively priced. The attention to detail and quality of glass is also second to none.

Thomas Haynes

Fantastic reliable service of quality products. Office staff are always very helpful and knowledgeable, Sarah in sales is amazing !!! Just the perfect company to deal with.

Matt Walbridge

Always a fantastic service! They go above and beyond to help you get the job done. My go to supplier for glass.

Shaun Bell

Great Company to work with, great service, quality and competitive prices. Thoroughly recommend them.

Tony Rix

Excellent – will always help if they can. Good product, good price, good knowledge.

Jules G

Just had delivered the glass to replace my staircase with glass panels. Very helpful, good value for money and delivered exactly when promised, thank you.

Darren Logan

Bevelled Mirrors & Glass

Learn More

With a skilled and experienced team dedicated to processing the highest quality glass products for myriad applications, abc creates and supplies high quality bevelled glass.

Bevelled glass has an angled surface around it's periphery. This decorative edge is achieved by grinding the edge of the glass to produce a perfectly finished angle. The bevelled edge we produce can be from 6mm to 40mm wide. In addition to classic and timeless bevelled mirrors, bevelled glass is commonly used for glass door panes, glass tabletops and shelving too. Bevelled glass mirrors, furniture and fittings are an excellent way to add subtle style to a home or commercial space.

Replacement antique bevelled mirrors

If you require replacement glass for an antique bevelled mirror, we can help. At abc Glass Processing we stock both standard and antique mirror glass which we can cut to your size and shape requirements before expertly adding a bevelled edge to the glass. We can also produce replacement bevelled glass panes for internal glazed doors. If you wish to create a new statement mirror or add interest to an interior glazed door, we can produce bevelled mirrors and glass to your design. Either supply is with measurements or a hard template for the glass you need, and we will do the rest.