abc Glass Processing
Glass Splashbacks
Looking to spruce up your outdated kitchen or replace discoloured bathroom tiling on behalf of a client? Then you're in the right place. At abc Glass, we supply a variety of bespoke glass splashbacks for every room of the home. From painted toughened glass for hobs to light-enhancing mirrored splashbacks for small cloakrooms, we have the product for you.
Custom-made glass splashbacks
A stylish alternative to wall tiles
Used primarily in kitchens and bathrooms, but suitable for a range of applications, our glass splashbacks are practical, attractive and affordable. Cut to fit your space exactly, each made to measure splashback is designed to protect walls from moisture, limescale and grime. And thanks to their seamless design, they require much less maintenance than tiles and grout.
Better still, we have numerous designs and colours to suit your needs. Our best-selling back painted glass kitchen splashbacks boast toughened, heat-resistant glass – ideal for use around hobs and cookers where spills are common. Opt for any RAL colour – either solid, metallic or with added sparkles – to complement your décor. Upgrading the bathroom too? Our painted splashbacks also double up as chic, easy to clean shower wall panels.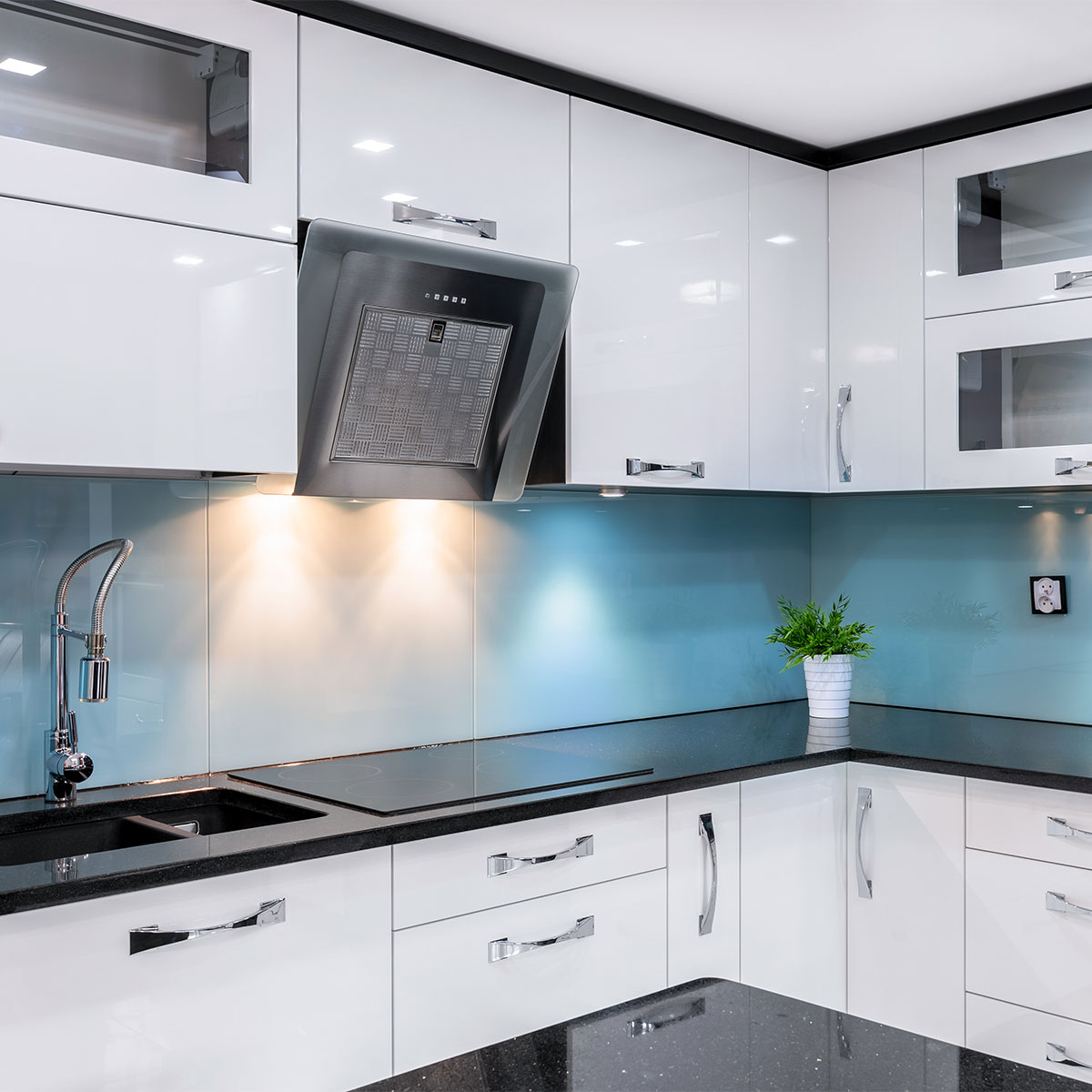 Mirrored splashbacks
Meanwhile, our sleek mirrored splashbacks pair beautifully with bathroom sinks and vanity units to give the illusion of more space. And our digitally printed designs offer a unique focal point to personalise any room. Whichever you choose, every custom splashback we supply is fabricated in-house by our expert team. We can even create cut-outs for sockets and switches to avoid the hassle of having to move existing outlets.
Need help sizing up or fitting your glass bathroom or kitchen splashback? Our highly trained technicians offer a handy home measuring and installation service for domestic customers living within 30 miles of Portsmouth. Otherwise, we can provide mirrored, printed and coloured glass splashbacks on a supply-only basis throughout central southeast England.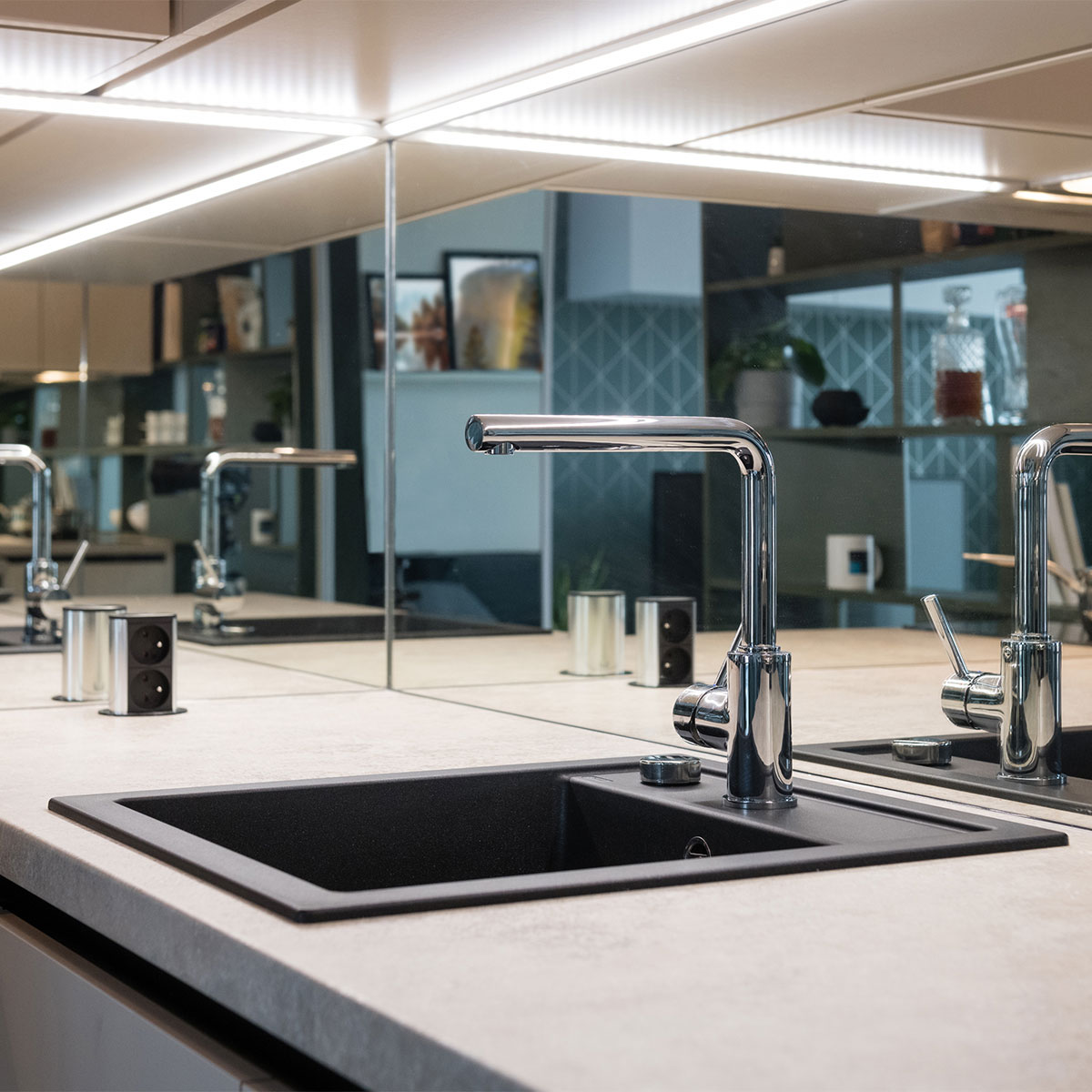 Started using abc glass end of 2021. I have to say that service, delivery and quality have been excellent and, compared with our previous supplier, their prices are very competitive. Highly recommend.

Peter Briggs

ABC glass processing are a fantastic glass supplier, well organised, very helpful and competitively priced. The attention to detail and quality of glass is also second to none.

Thomas Haynes

Fantastic reliable service of quality products. Office staff are always very helpful and knowledgeable, Sarah in sales is amazing !!! Just the perfect company to deal with.

Matt Walbridge

Always a fantastic service! They go above and beyond to help you get the job done. My go to supplier for glass.

Shaun Bell

Great Company to work with, great service, quality and competitive prices. Thoroughly recommend them.

Tony Rix

Excellent – will always help if they can. Good product, good price, good knowledge.

Jules G

Just had delivered the glass to replace my staircase with glass panels. Very helpful, good value for money and delivered exactly when promised, thank you.

Darren Logan

Glass Splashbacks

Made to measure splashbacks: the details

If you're keen to learn more about our glass splashbacks and installation service, explore the information panels below for more details. Alternatively, feel free to contact our sales team on 023 92 678 222 to have your query answered right away.

What is a glass splashback and what are the benefits?

Glass splashbacks are functional and decorative wall panels that offer a modern alternative to wall tiles. Waterproof and in some cases heat-resistant, our custom splashbacks will protect your walls from watermarks and dirt. This is especially important in the areas behind hobs, cookers, sinks and around bath tubs where moisture and grime is likely to build up. But why choose a bespoke glass splashback over tiles? Let's take a look…

Full coverage option – unlike with tiles, there's no need to worry about the grout between them degrading or becoming stained over time. Our custom splashbacks are manufactured as one solid piece (in lengths up to 3m) and will look great for years to come.

Wide range of styles – from vivid melon yellow and sky blue to neutral iron grey and cream, painted glass splashbacks come in host of RAL colours. We can even colour match our splashbacks to existing colour schemes. Metallic and glitter splashbacks, plus decorative laminated glass designs and mirrored finishes are available too.

Hygienic and easy to clean – with no grout to attract dirt, grease, bacteria and mould, glass splashbacks can be simply wiped clean as required and will look like new for many years.

Great value for money – although tiles may seem cheaper at first glance, when you factor in material prices, breakage allowance, labour costs and ongoing upkeep, the price of tiling can quickly add up! With that in mind, our low-maintenance and long-lasting glass kitchen splashbacks offer better value for money in the long term.

Quick and easy to install – while tiles are notoriously time-consuming and messy to fit, glass kitchen and bathroom splashbacks can be glued to the wall or sealed to a work surface in as little as a day. Learn more about our speedy installation service below.

Painted glass splashbacks

Made from 6mm toughened glass, our painted glass splashbacks are extremely versatile. Use around a hob or cooker without having to worry about warping or fading, or add to a utility room to protect against splashes and spills. We can also supply larger panels to create contemporary shower wall cladding. Either way, these robust glass splashbacks can be back painted in any solid or metallic RAL shade. And for something a bit different, rainbow or silver sparkles can be added into the mix for an eye-catching glitter effect when the light hits.

Mirrored glass splashbacks

An increasingly popular option, mirrored glass splashbacks are great for bathrooms and vanity areas. In particular, they help to make compact ensuites and dark cloakrooms appear larger by reflecting the available light. Choose from modern silver designs or antique mirror splashbacks to complement every interior theme and make small spaces more welcoming.

Note: our mirrored glass is not toughened or heat-resistant, so is not suitable for behind hobs and cookers in kitchens.

Printed glass splashbacks

Want to personalise your splashback beyond just the colour and finish? Then a printed glass splashback may be ideal. All you need to do is provide a large, hi-res image and we'll digitally print it onto a custom glass splashback to create a statement piece.

Note: we will create a proof for approval before going ahead to ensure high quality results.

How our glass splashbacks are made

At abc Glass Processing, most of our bespoke glass splashbacks are made from 6mm toughened and heat-resistant safety glass for long-lasting durability. In addition, we can offer other glass thicknesses for features such as matching shelves or windowsills.

To accurately cut and shape the glass to fit your measurements, we use state-of-the-art CNC and waterjet cutting technologies to replicate a hardboard template of your wall space. At this stage, we can also create cut-outs in the glass to accommodate wall sockets and mounted taps.

After shaping and cutting, the glass is then toughened before being painted or printed as requested. All of this combined, you can expect a quick lead time of 2-4 weeks, depending on whether you opt for our supply-only or complete measuring and fitting service.

Glass splashback measuring to installation service

Thinking of booking our full service option to prevent mistakes and save you the hassle of installing your own glass splashback? Here's how it works:

You send us your requirements and measurements for initial pricing and lead times.
If you've opted for our installation service, we visit you to take measurements and provide an accurate quotation. We can also bring glass samples for you to look at if you've not visited our showroom before and need some inspiration.
If you're happy with our quote, we'll make up hard templates based on our survey measurements. Or, if you've opted for supply-only glass splashbacks, we'll produce these based on your own measurements. You order will then be put into production.
Once your splashback has been manufactured, we'll deliver and fit your splashback on a pre-agreed date – usually within a month of you placing your order. And, unlike with tiling, the entire installation process can typically be completed in a single day.

Our measuring and installation service is available in the shaded area shown on the map below. If you'd prefer to order splashbacks on a supply-only basis, we can cater to that too, no matter the quantity required. Either way, delivery is free in Hampshire, Surrey, Sussex, Berkshire, Wiltshire and East Dorset, and we can also provide bulk deliveries further afield.

Order your easy-clean, glass bathroom or kitchen splashback now!