Whether you are looking to add Georgian style glass doors to a grand building or you are hankering after a beautiful bevelled glass mirror as a statement piece in a smaller property, abc Glass Processing can meet your needs with supreme bevelled glass cut to size.
What is bevelled glass?
Often made by creating an angled surface cut around the edge of a thick glass sheet, bevelled glass is mostly used to add a finite finish to mirrors. In addition to the classic and timeless bevelled edge mirror, bevelled glass is commonly sought after for glass door panels, glass table tops and glass shelving too. Bevelled glass mirrors, furniture and fittings are an excellent way to add subtle style to a home or commercial space.
To Find Out More About Our Glass And Mirror Bevelling Services Please Contact Us
Bevelled edge glass specialities
With our two top-of-the-range bevelling machines and a bevy of glass cutting experts at our liberty, we are one of only a few glass suppliers who can produce bevels for straight and shaped glass (rectangles and squares) and mirrors.
Bavelloni has been producing innovative and reliable flat glass grinding equipment for over 70 years. Our Bavelloni B73 is a whizz at creating straight-line edge bevels while the Bavelloni SB10 semi-automatic is our go-to for our custom-shaped edge grinding work.
Shaped bevel cut beauties
We can also create a bevelled glass finish to simple shapes, such as circles and ovals, as well as more complex shapes in widths ranging from 6mm to 40mm.
The more intricate bevel cut shapes might be executed by hand so that our master craftsmen can maintain more control and precision for each unique piece.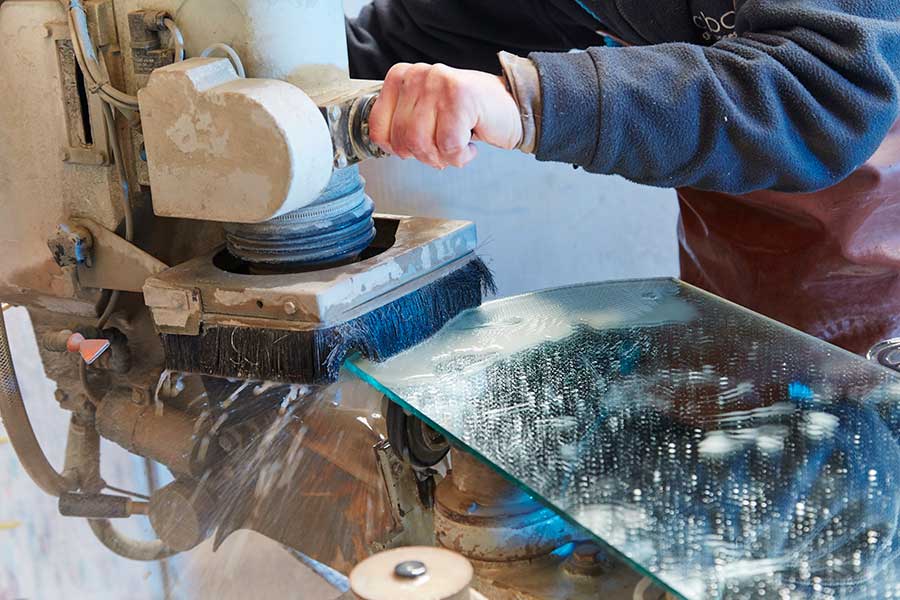 It's clear to see the quality of our bevelled glass products
We should definitely be your first port of call if you are looking for bevelled glass cut to size in the central south east region of the UK. There is a fantastic example of a diamond effect surface for a mirror in our Portsmouth glass products showroom, which is sure to win you round.
Contact abc Glass Processing today to get a quote for a bevelled edge mirror or other top quality bevelled glass products.