At abc Glass, we've spent 20 years perfecting the art of how to cut glass. Whether cutting glass by hand the old-fashioned way, or utilizing state-of-the-art glass-cutting machinery, no task is beyond our expert team.
In this article, we'll take a closer look at modern glass craftsmanship in all its glory. We'll show you how our team creates all those intricate glass shapes and cut-outs. We'll also explain the main purposes of glass cutting as well as the specific technologies and expertise used at our Portsmouth glass processing HQ. This will hopefully help you decide what kind of glass processing service you need for your specific project.
How to cut glass depends on the complexity of the shape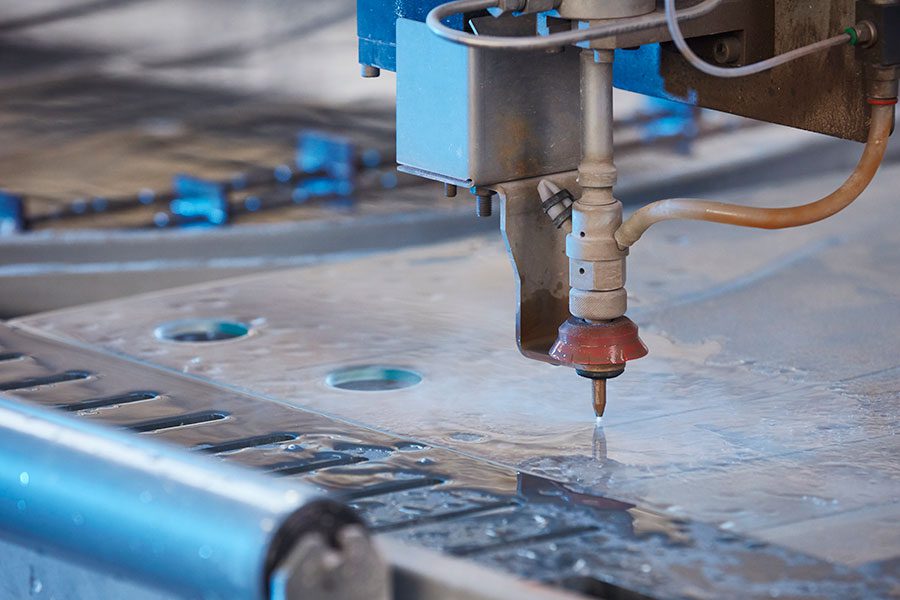 We use a wide range of different technologies (aided by human expertise) to cut a variety of glass products. Broadly, these products fall into three types:
Glass cut to size – The most popular service we offer. Our technicians take a sheet of glass and cut it to your exact specifications, typically in a square or rectangular shape. And because we offer so many other processing services, we can produce such cut-to-size products as fire safety doors, custom mirrors, painted glass splashbacks, toughened glass partitions, and so on.
Complex shapes – We're often asked how to cut glass for creative or "unusual" shapes – an expertise that we proudly offer. Examples include a kitchen glass worktop to fit a bespoke space and an angled glass partition to fit a sloped ceiling for a loft conversion.
Cut outs and holes – When creating complex glass products that require cut outs and holes, precision is king. We specialize in glass cut outs, holes and metal patch fitting for a range of glass products, from glass balustrades and balconies to shower screens and glass staircases. We can also produce cut outs and drainage channels for sinks set into glass worktops, as well as cut outs for electrical sockets in painted glass or mirrored wall cladding.
Glass cutting technology and expertise
The question of how to cut glass depends in large part on the available technology. Fortunately, we have assembled a fearsome collection of glass processing machines to help us succeed at virtually any job.
One of the highlights of our collection is an automated glass cutting line. This technology allows us to efficiently and accurately cut glass shapes from standard panels while minimising waste. We also utilize CNC machines and waterjet cutting on-site. The former makes use of DFX files, programmed by our technicians, to cut and shape glass of all sizes and thicknesses with perfect accuracy and speed.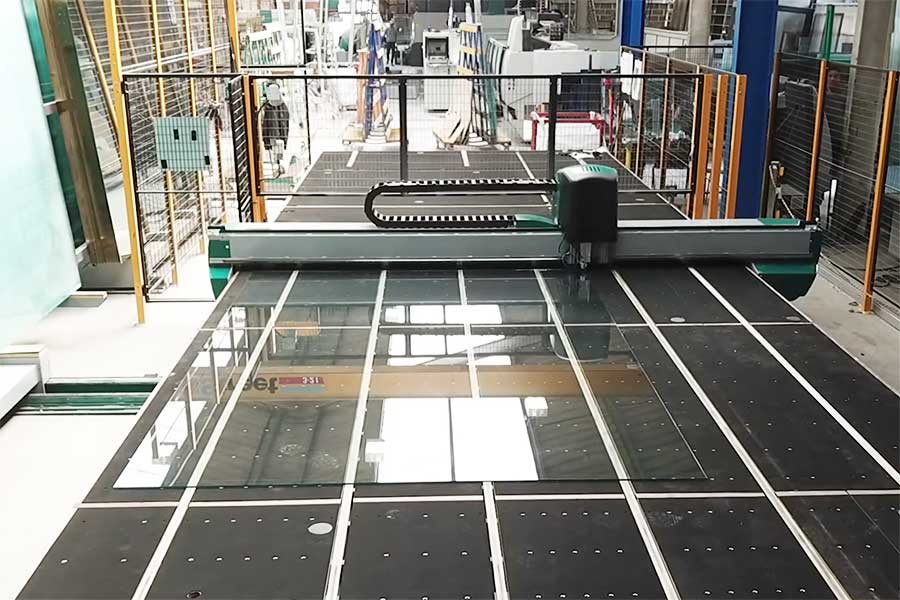 While we cherish our state-of-the-art technology, these machines would be nothing without a human touch. Human expertise is at the heart if everything we do: our team of 20-plus technicians offer decades of experience in cutting, shaping, and polishing intricate glass shapes.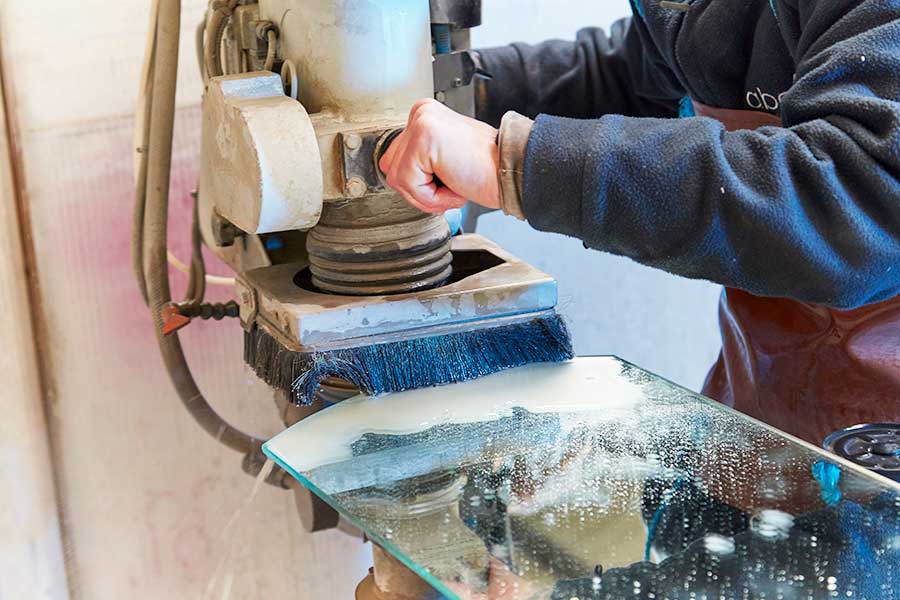 Take hand edge polishing and bevelling – an increasingly rare service in our industry. Indeed, we are one of a handful of UK companies still offering this service. Our experts can apply hand edge polishing and bevelling to any glass shape, no matter how intricate. This video shows our master crafters at work using handheld devices to apply a polished and bevelled finish.
If you have any questions about how to cut glass, our team of experts is always happy to answer – just call us or send an email. We will happy to explain the best technology suited to your project and show you how our glass processing services can help.