Glass processing is a true blend of art and science. A touch of flair is essential – as is a skilled team and state-of-the-art production facility.
Fortunately, at abc Glass our glass processing team includes some of the country's finest glass technicians, trained to utilise both modern and traditional methods. These wizards make use of industry-leading machines and technologies to create stylish and robust glass products. Jobs that used to take days, such as made-to-measure shower doors, glass balustrades, and bespoke mirrors, can now be turned around in a couple of hours.
Intrigued? Here's a run-down of some of the niftiest glass-making skills we deploy on a typical day…
1. Machine cutting
20 years ago, when abc Glass started out, we couldn't have foreseen the vast leaps in glass-cutting technology that would follow. Today our factory is stuffed with ultra-modern kit, such as the brand-new vertical CNC (Computerised Numerical Cutting) machine.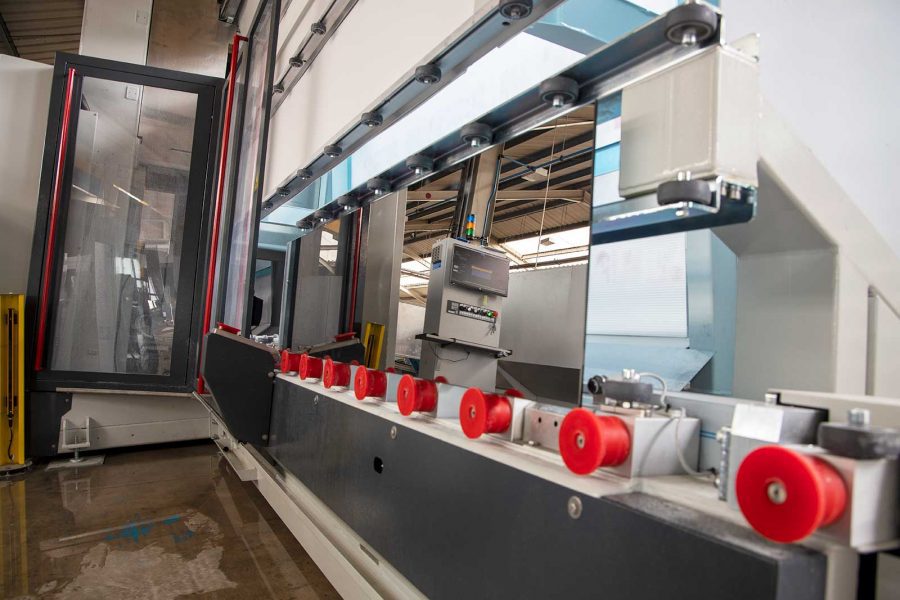 This behemoth allows our technicians to cut and shape glass to virtually any spec, with thickness from 4mm to 19mm. Ideal for cutting complex shapes, the machine also lets us cut precise holes for sockets and hinges in shower doors and glass partitions.
Another essential piece of kit is our water jet cutting machine. Its nimble 3-axis design is suited to cutting even more complex glass shapes than the CNC machine, such as unorthodox curves and sharp angles. See this gorgeous "abc" blue glass script as an example of what water jet cutting can achieve: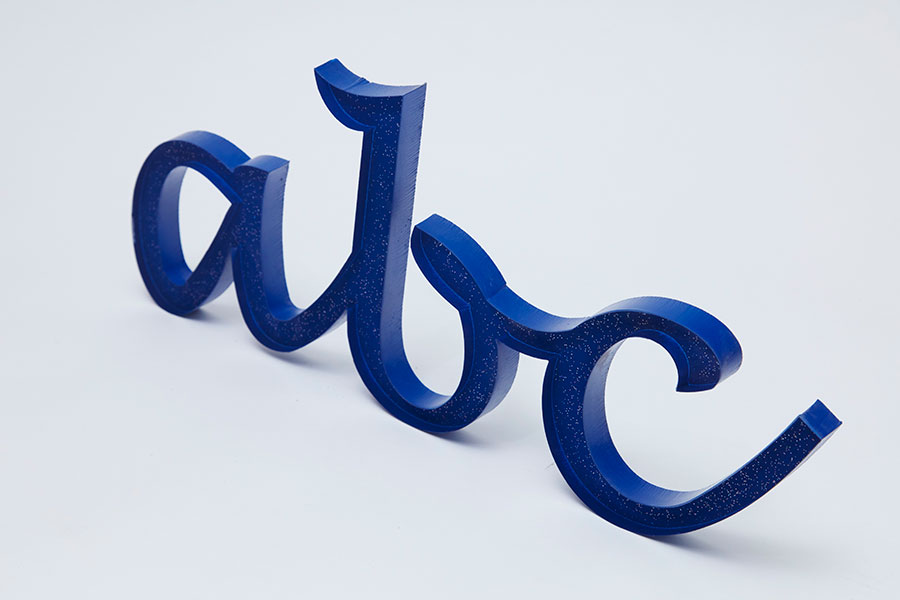 2. Hand crafting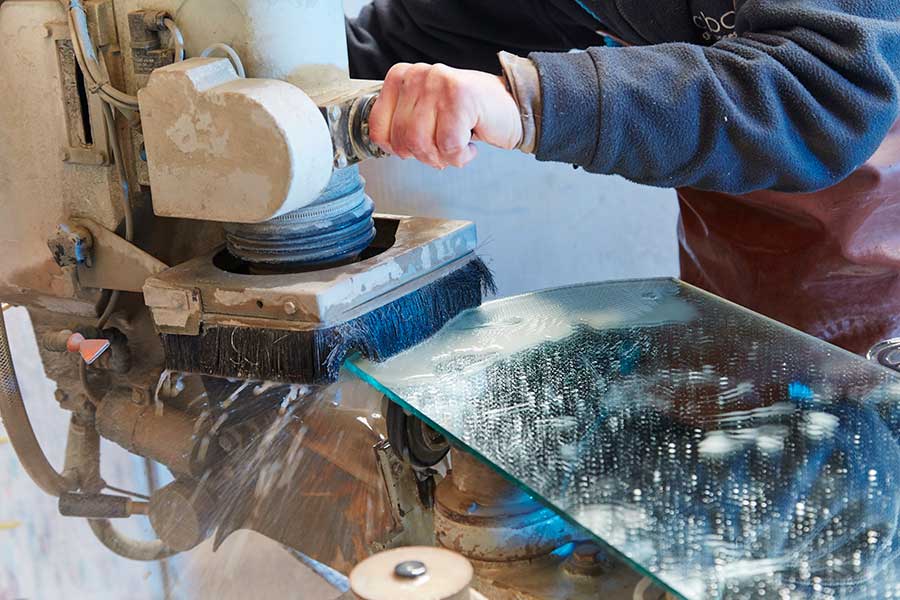 As much as we love our big machines (and boy, do they save time…), there are certain limitations to computer-based processing. Some jobs require us to produce fine details that can only be perfected by hand. These tend to be ultra-intricate features such as steep curves and round bevelled edges. Our glass technicians are more than happy to cut and shape glass the old-fashioned way – after all, there's a certain pleasure in keeping alive this timeless craft.
3. Glass toughening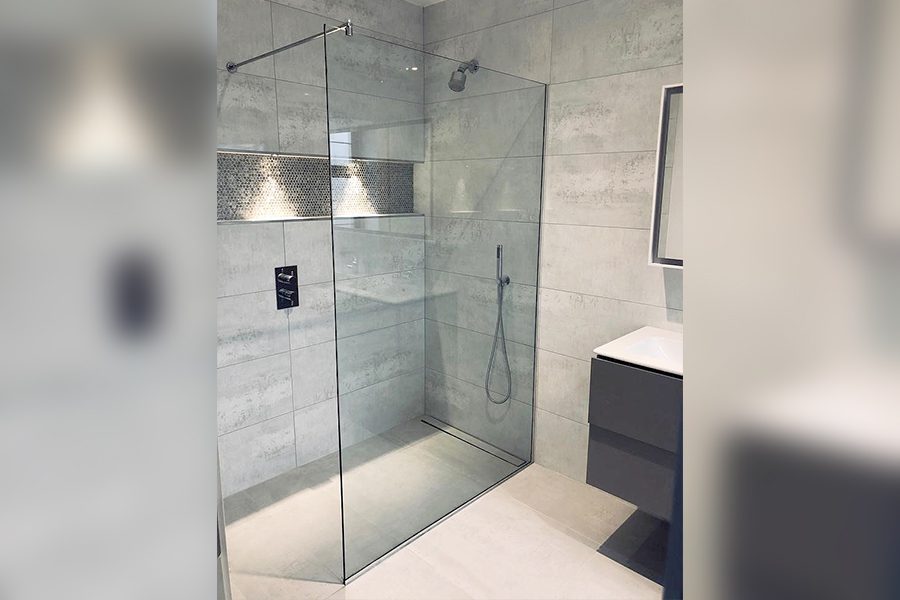 Now that your glass is cut to size shape, it's time to toughen up. Our toughened safety glass meets all the safety standards for commercial and domestic use. We create it by heating glass sheets in a special furnace up to 600⁰C, before quickly cooling the outer faces. The result is a robust sheet of glass that, if broken, shatters into to hundreds of small pieces instead of leaving razor-sharp shards. Perfect for balconies, shower screens, staircases and floors, and even bespoke mirrors.
4. Laminating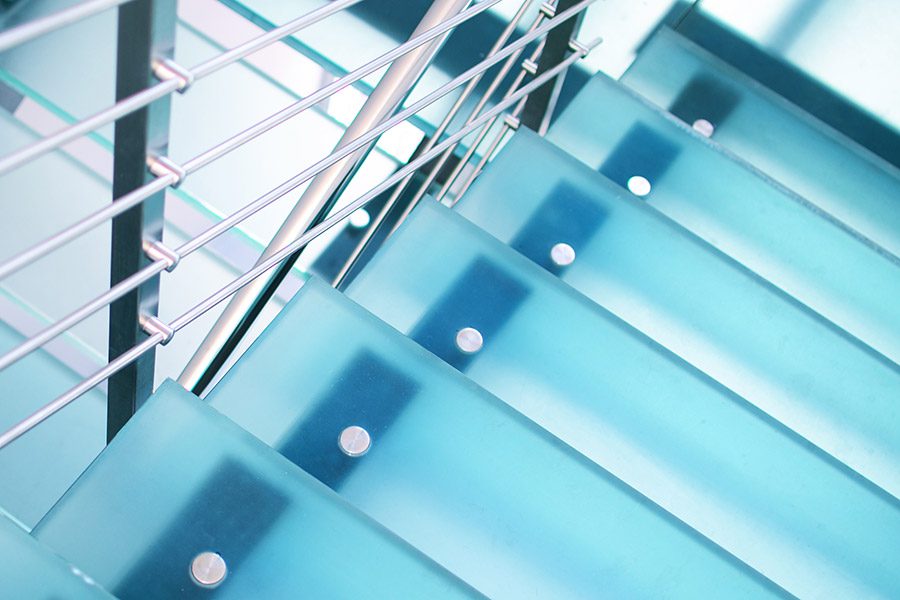 Our laminated safety glass is used all the time in balustrades, partitions, shower screens, floors and stair treads. We create it by bonding an interlayer between two or more sheets of regular or toughened glass. This interlayer can be clear or fully decorative – take your pick from coloured, frosted or even patterned laminated glass. Multiple bonded layers result in an extremely robust glass panel that keeps its form even when shattered. Other benefits include better sound insulation and blocking out harmful UV rays.
5. Edge polishing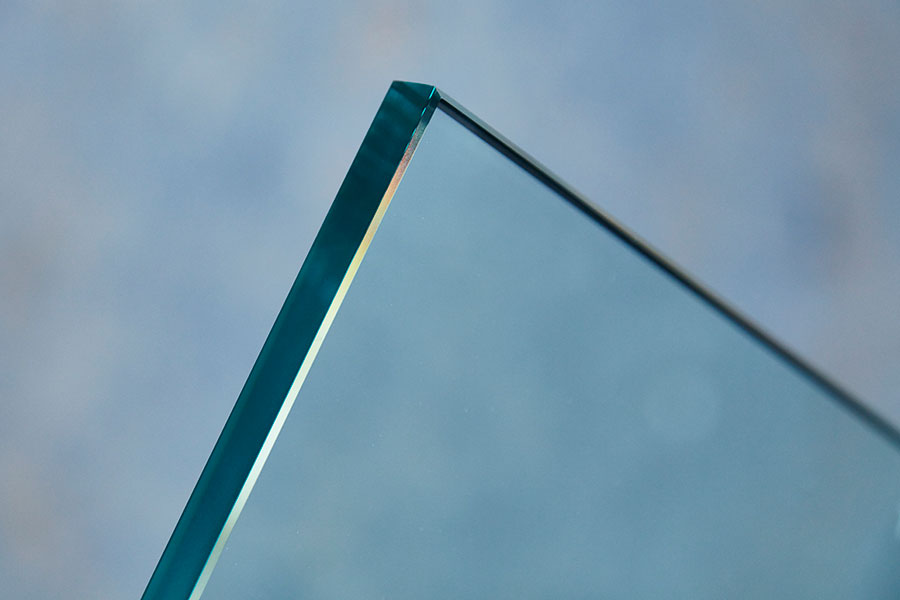 Polished edges are an increasingly common sight in interior design. Trends such as frameless showers and structural glass balustrades have led to increased demand for our glass edge polishing service. Glass edge polishing makes the edges safer but can also be a stylistic choice. Our specialists can polish both standard and irregular shapes of glass and mirrored glass with a flat or diagonal finish.
6. Bevelling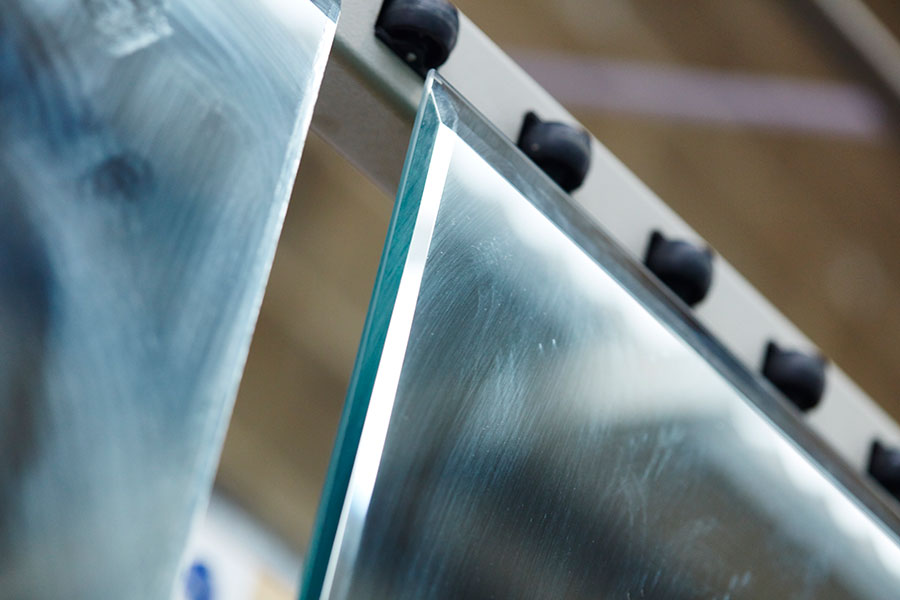 This age-old technique is often found in traditional mirrors, as well as glass door panels, shelves and table tops. Bevelling involves grinding and polishing the glass to an exact angle, creating a "framed" look. Our mighty bevelling machines allow us to bevel straight and curved edges in any glass width from 6mm to 40mm. For the most unusual shapes, we are one of only a handful of companies left in the UK who can apply a bevelled edge by hand.
7. Sandblasting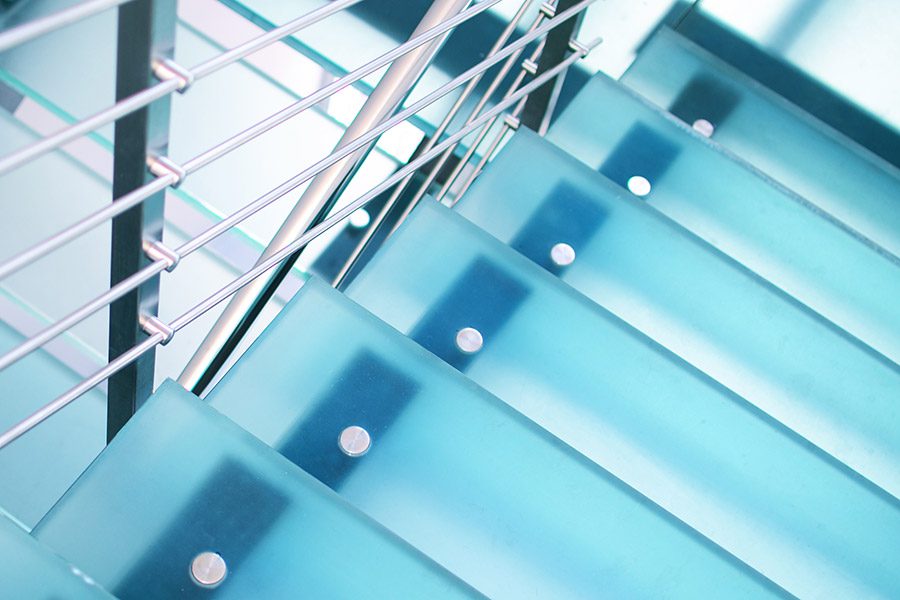 Better known as frosted glass, sandblasting lets designers get creative with the opaqueness of their glass. It's also ideal for adding a spot of privacy, especially in bathrooms and bedrooms. Our sandblasting specialists can create custom patterns that block out certain areas of a glass sheet, leaving the rest clear. We use a special non-stick coating to protect the glass from smudges, dirt and finger marks.
8. Back painting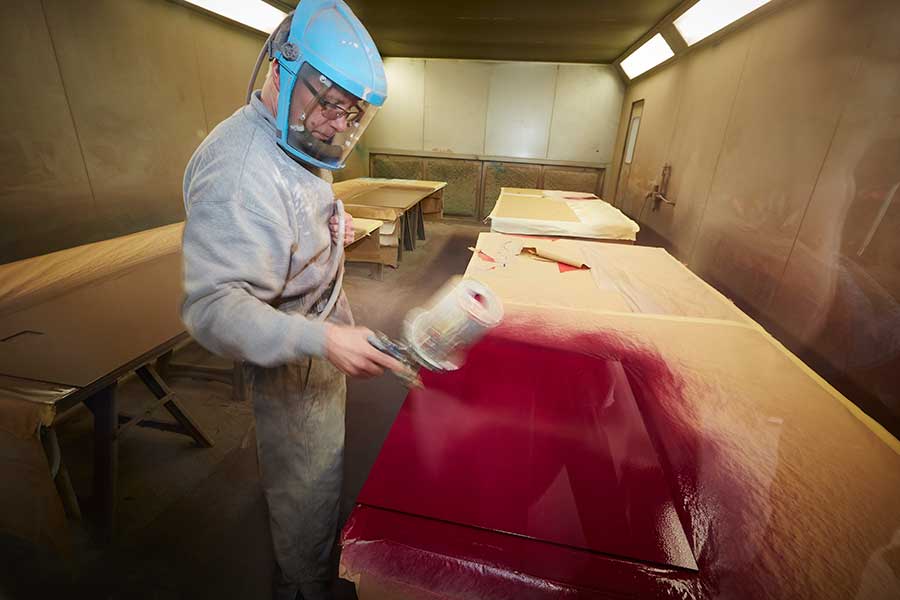 Back painted glass allows designers to colour match their glass to its surroundings. It's the final possible step in the glass processing chain, and possibly the most impactful. Painted glass splashbacks are now a common alternative to tiles or stainless steel, but we can also produce back painted glass for glass partitions, shower screens and worktops. Just pick any colour from the RAL colour chart range or let our experts colour match to your design.
If you'd like to make use of our team's glass processing skills, please contact us today. Our friendly and knowledgeable staff are on hand to answer any questions you may have about glass processing. We can help to get the ball rolling on your next interior design project, no matter how complex.