When it comes to interior design, there are virtually no limits to what you can do with glass. Fancy some wow-factor in your garden? Glass garden features are your friend. Zoning off a room without using a wall? Simply put up a glass partition. However, the most popular glass trend we're seeing now is something much different: glass balustrades for staircases.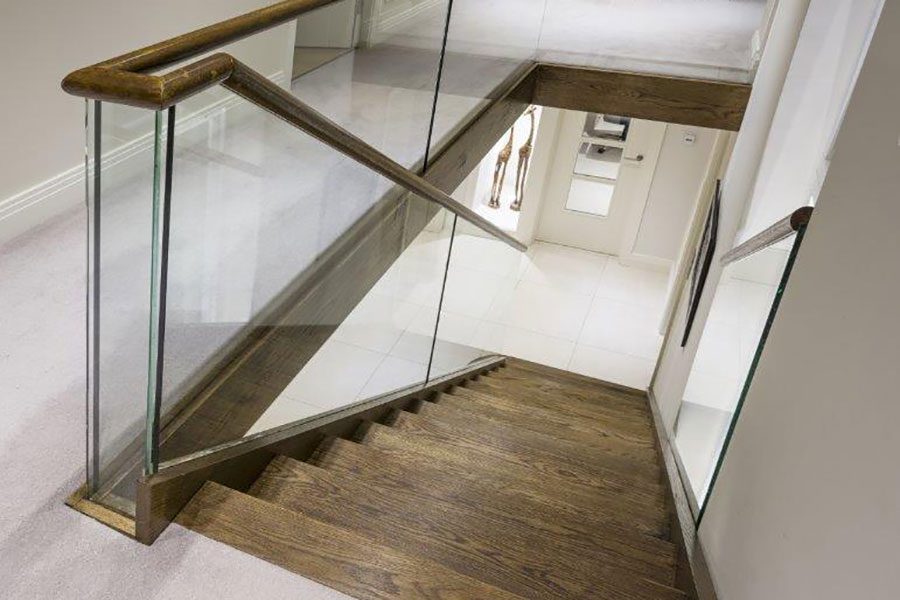 There's nothing to revitalise the hallway quite like a new glass staircase. After all, your stairs are often the first thing people see when they walk through the front door. To meet this demand, we've partnered with staircase specialists Multi-Turn to design some truly stunning glass balustrades for staircases.
There are a number of benefits to glass balustrades for staircases. These include:
More natural light – glass staircases let more light in, brightening your staircase and leaving a clear view
Illusion of more space – as with any glass feature, the see-through nature of the material tricks the eye into seeing more space
Aesthetics – glass staircases boast a wow-factor unmatched by any other material.
Long lasting & durable – with abc Glass's low-maintenance clear toughened glass, your stairway should last a lifetime
So, what are the main types of glass balustrades for staircases? In this article, we'll take a closer look at five of our original glass staircase projects, each showing a different approach to glass staircase design.
1. Rebated balustrade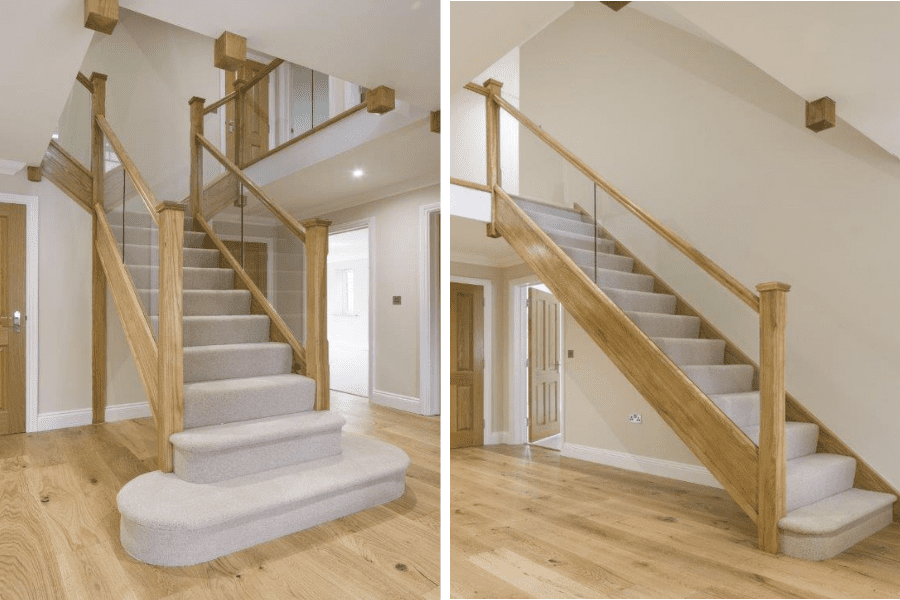 Rebated balustrades are one of the most popular design solutions for glass staircases. It simply involves fitting the glass panel into a tight groove in the woodwork, creating a near-seamless look. The two examples above show rebated glass at its finest, taken from a bespoke residential side in Romsey.
2. On Brackets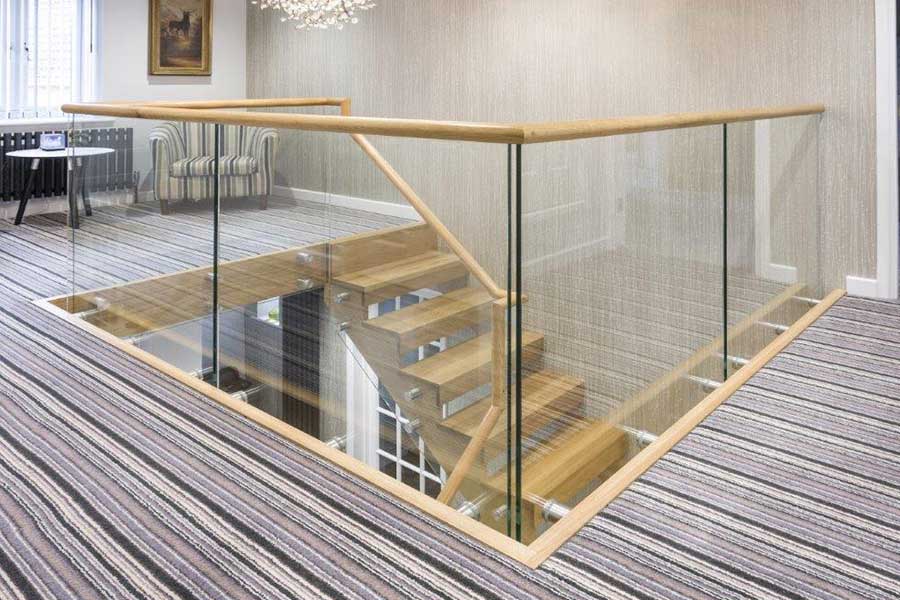 For larger projects with longer balustrades – such as this huge landing in Southampton – a glass brackets system does the trick. This particular style is called "stand-off" brackets, which leaves ample space between wood and glass. It's also common to find glass fitted by stainless steel clamps to the railings and posts. This leaves a slither of space around the entire edge of the glass pane.
3. Glass Risers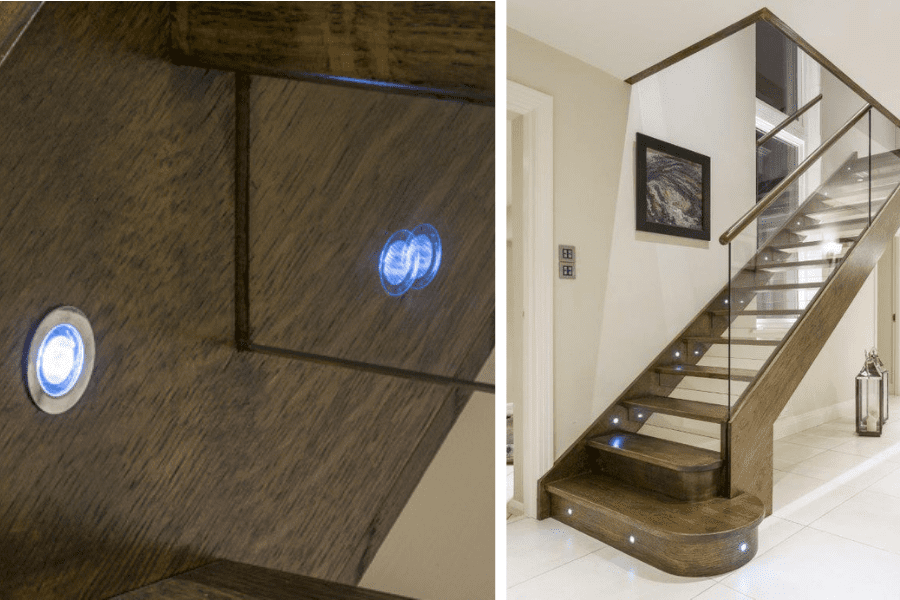 For a more elaborate look, why not choose glass risers for your next staircase? Risers can be seamlessly blended into the design using hidden fixing bolts, like this recent project (above). We used small sheets of 12mm toughened glass below each step, combined with discreet in-built lighting that reflects the surface. As glass staircases go, it doesn't get more luxurious!
4. Structural glass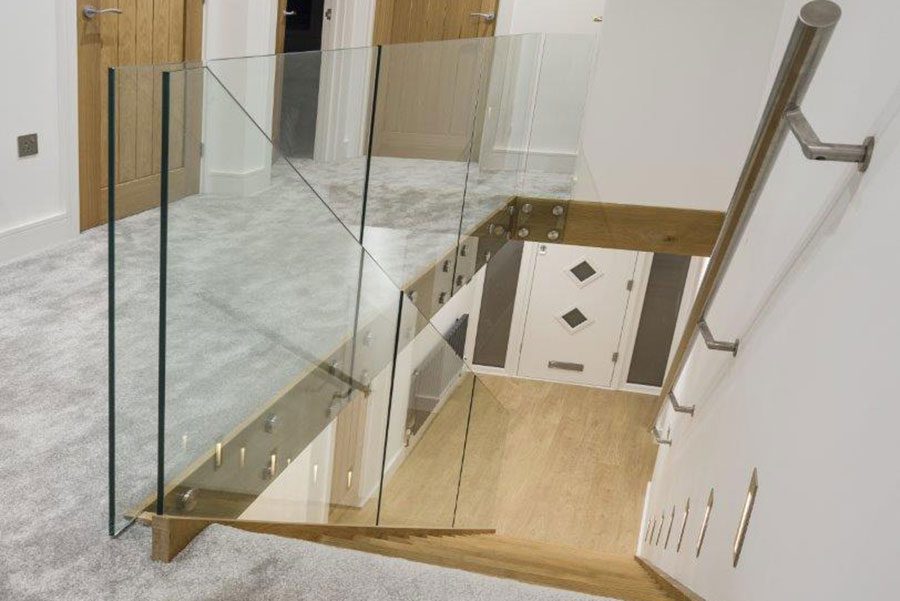 Frameless balustrades are popular with homeowners seeking a minimalist look. For this private house in Guildford, we used 12mm toughened structural glass – integrated into the wooden staircase – for an incredible "freestanding" effect. With no handrails or traditional supports, the entire glass structure has a unique look.
5. Glass spindles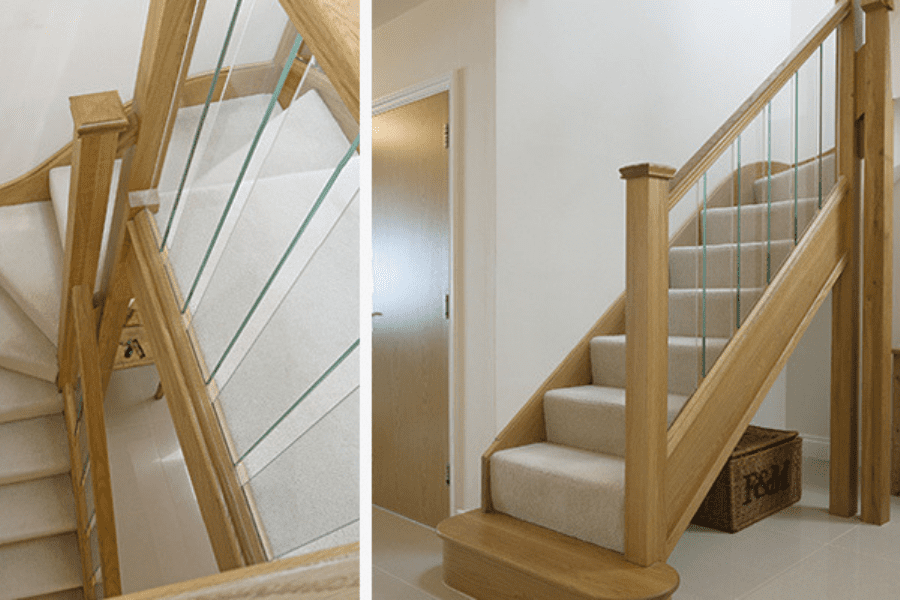 Most glass panels found on staircases are large and imposing. But with glass spindles you can create a totally different look, inspired by traditional balusters but with all the advantages of glass. Small individual panes are rebated into to the staircase structure, with no need for brackets. The end result is a light, airy and seamless look that any homeowner would be keen to show off.
To find out more about our glass balustrades for staircases, or how you can incorporate glass into the home, please speak to our expert team. We'll do our best to answer any questions you may have, and to help you on your way to a stunning new glass staircase.