Open-plan has been the buzzword among builders and interior designers of recent years. With a focus on collaborative working spaces, connecting more with the family in the home and a lack of space in some urban developments, it's not hard to see why. Glass partition walls are the zen zoning zenith for an open-plan space – where subtle privacy and structuring can exist side-by-side with all-out shareability – while making the most of natural light and architectural features.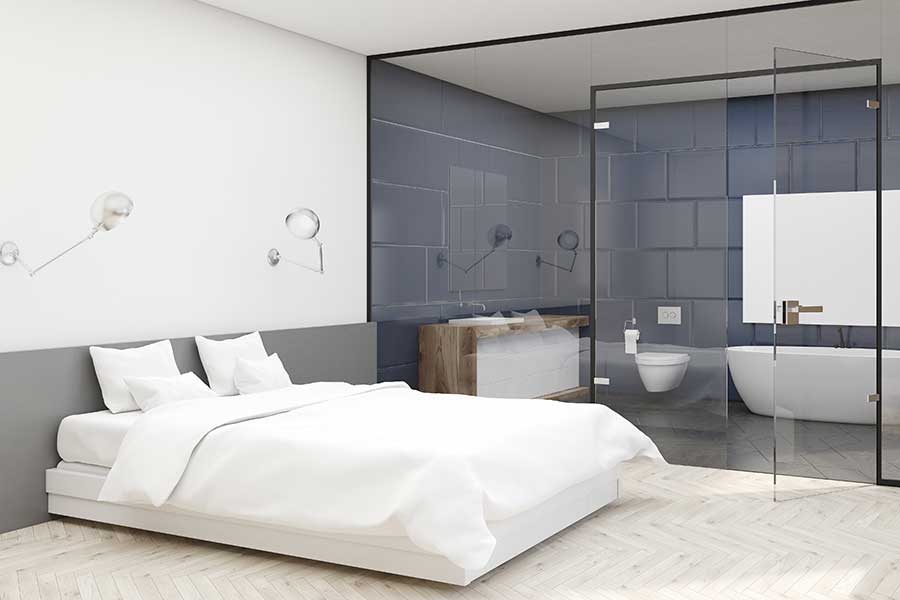 Despite so many choices when it comes to décor, size and shape of space, glass partitioning walls are an excellent option for dividing an open-plan space without disturbing the flow of light and energy. A glass wall or "window wall" can provide everything from an audio-break to a soupcon of style and, offering as much functionality as it does flair, makes a smart addition to winning blueprints.
Glass partitions can be used just about anywhere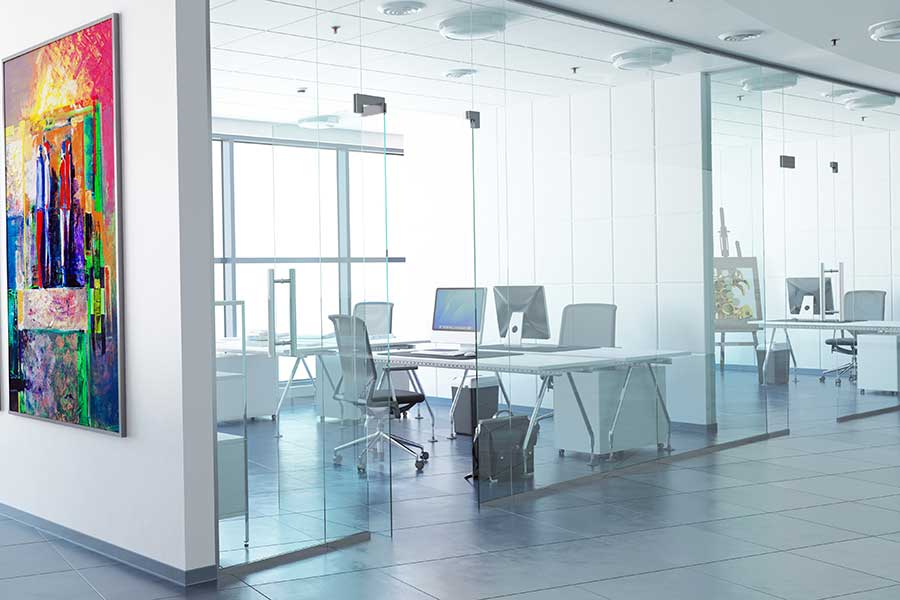 In an office, glass room dividers can allow the opportunity to create a meeting room or reception space with floor-to-ceiling glass walls within a larger open-plan office. Glass partition walls for the home offer limitless options too – from smell and sound barrier between kitchen and living area to light-reflecting break between bedroom and bathroom to seamless split between inside and outside. Fixtures, fittings and features in adjoining rooms – such as a feature bathtub, mosaic tiling or natural wood beams – also get the chance to become double-whammy showstoppers.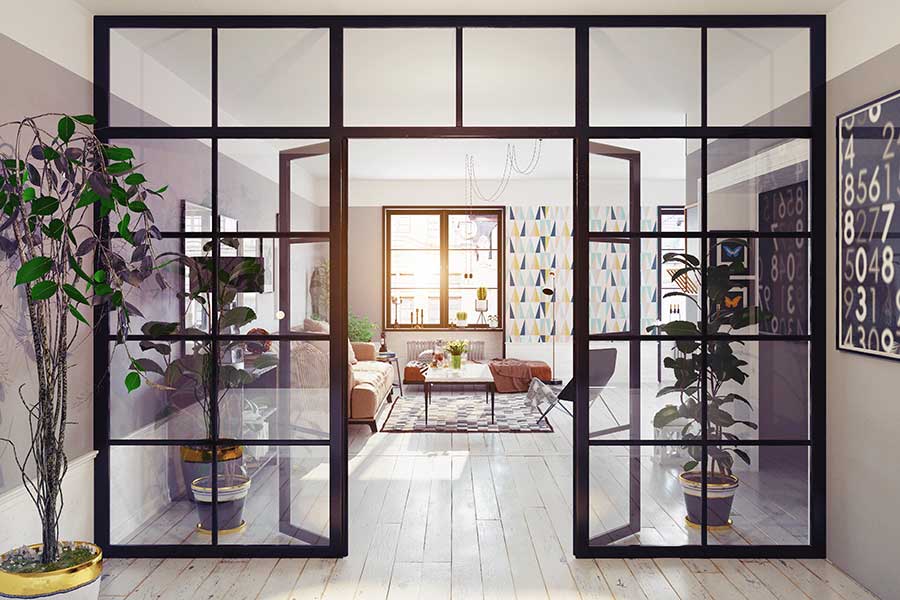 And who says it has to be a solid glass wall? You could incorporate sliding glass partitions for occasional zoning when the mood suits – grid-style if you fancy a bit of art deco glamour or frameless for extra delicacy. Why not try an arch divider crafted from glass for a softer screen? This adds kudos between kitchen-diners and adds va-va-voom to vestibules.
Glass balustrades as glazed partitions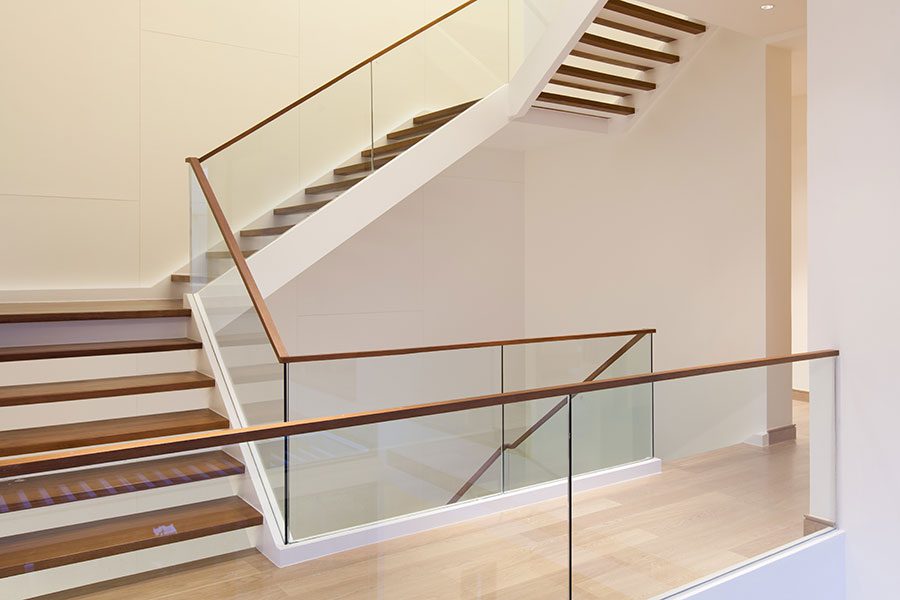 While the term "glass partition walls" may conjure images of floor-to-ceiling room breaks, half-height glass dividers in the form of glass balustrades can be really effective.
Whether you want to more clearly zone a mezzanine in a bijou new-build or to create continuity between floors in the grand atrium of a barn conversion, these glass room dividers will echo a comma in your broader "style sentence" rather than the harsh full stop of a brick partitioning wall or a framed floor-to-ceiling glass wall.
These half-height glass balustrades are best used in spaces where noise is no issue as they'll provide little barrier to sound between zones they also put less emphasis on enlarging a space.
Stair glass panels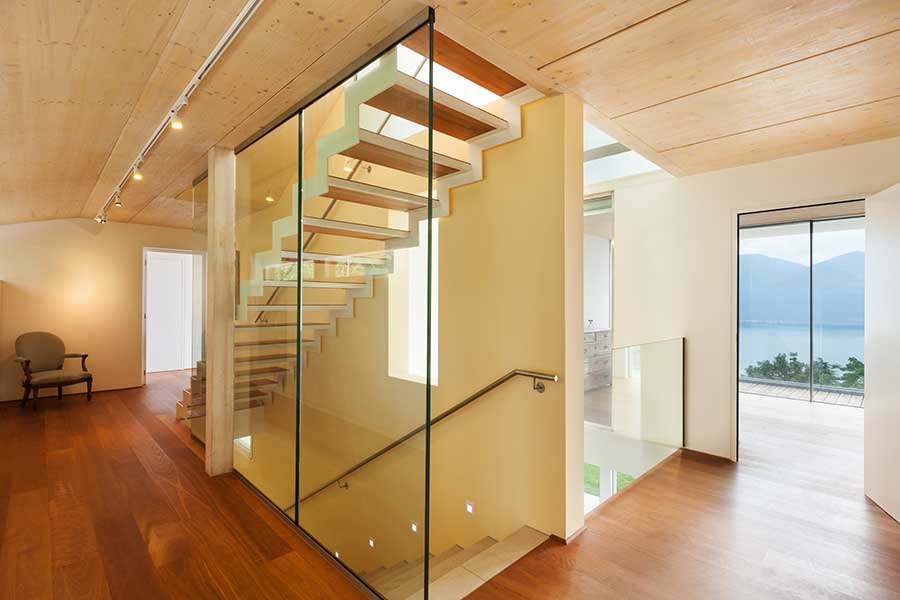 There's a way to make your staircase part of an open-plan room and maintain the natural flow: stair glass panels. While you can make a glass staircase a stand-out feature in a room dominated by darker wood or a warehouse vibe, you can use stair glass panels to transcend in a way that's totally in-keeping with the continuity of the room.
There's nothing more uplifting than living or working in a space where natural light illuminates glass steps, banisters and stair glass panels. Add metal struts, fixtures and fittings for full-on industrial-chic or keep glass wall panels frameless for contemporary seamless simplicity.
Glass wall choices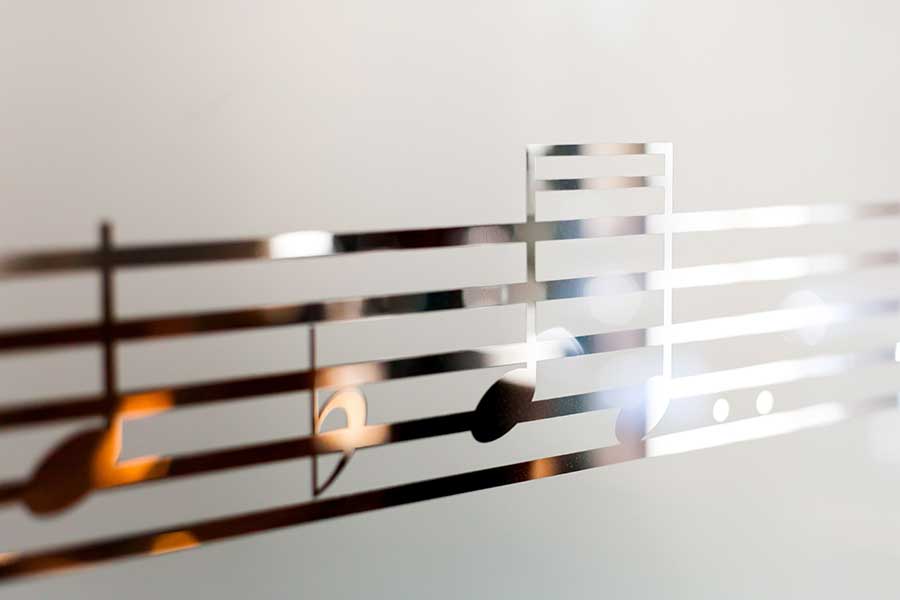 When it comes to glass partitions, glass balustrades and stair glass panels, there are various options with regard to colour, finish and style so you can have the exact glass wall zoning that suits your project. Your custom glass processing options include:
Tinted of painted glass walls – Have your glass partition walls clear (for subtle zoning), tinted (for more oomph) or painted (for all-over colour pop) to suit your interior styling. Why not choose a combination of clear and coloured, using tinted and/or painted glass in different formations and in different areas to make the most of how the natural light interacts at different times of day and season?
Mirrored glass walls – Use mirrored glass to create an even greater large-space-illusion and to reflect the entire space's style – literally. A carefully placed rug can also help zoning so why not pick a colour or texture you want carried on through effortlessly and place it near a mirrored glass partition for maximum wow? A mirrored glass splashback could be teamed with a mirrored glass room divider to elongate a space too.
Frosted glass walls – Whether you choose total frost or intricate patterns that incorporate opaque and clear glass in unison, frosted glass wall partitions not only make an excellent style statement but are the perfect way to create privacy using a small part of an internal glass wall or external glass wall. Frosted glass walls work wonders in bathrooms and could even create a little sanctuary for a reading nook or between desks.
Fabric interlayer glass walls – In the same way frosted glass can beckon privacy and panache, fabric interlayers can be added to your glass wall at the glass processing stage for pure pizazz. This could be a custom design and integrate patterning, colour or texture from elsewhere in your space to achieve a coordinated look for ultra-stylish yet subtle zoning.
Laminated glass walls – Laminated toughened glass is the best choice for all glass room dividers. Whether it's in the home or commercial space, in case of incident you want a glass that's going to hold when shattered rather than scatter into tiny dangerous shards. Our laminated glass has an interlayer between two more layers of glass, which can be toughened for super-strength to a safe EN12150 standard. At abc Glass Processing, we specialise in tempered (toughened) glass and provide quality toughened glass for stairs as well as glass room dividers that stands the test of time.
It's clear to see why we're leading glass wall suppliers
Contact abc Glass Processing today for your glass partition wall needs and our skilled and experienced team will be only too happy to help and talk you through your options. Let us know exactly what you're looking for and your lead-time – we'll work with you to find the perfect glass wall solution.