With springtime officially here, many of us are already spending quality time in the garden. If you're looking to jazz up your outdoor space, why not look beyond the usual garden design options (furniture, fire pits etc.) and invest in a garden mirror?
There are several great reasons to install garden mirrors, as this article will lay out. But tread carefully – with glass, some safety and practical considerations must also be followed. We hope you find some use in our quick summary of the benefits of garden mirrors and the practicalities to bear in mind.
Why put a mirror in your garden?
The main reason to install a garden mirror is to make an impact – whether perspective-wise or as a design statement. Most obviously, a garden mirror creates an obvious focal point to your outdoor space. It can help shift the perspective by making the garden look bigger and flooding the space with light. Take flower beds – by putting a large mirror on a wall behind the bedding, you can in one stroke "double" the amount of plants and flowers in your garden.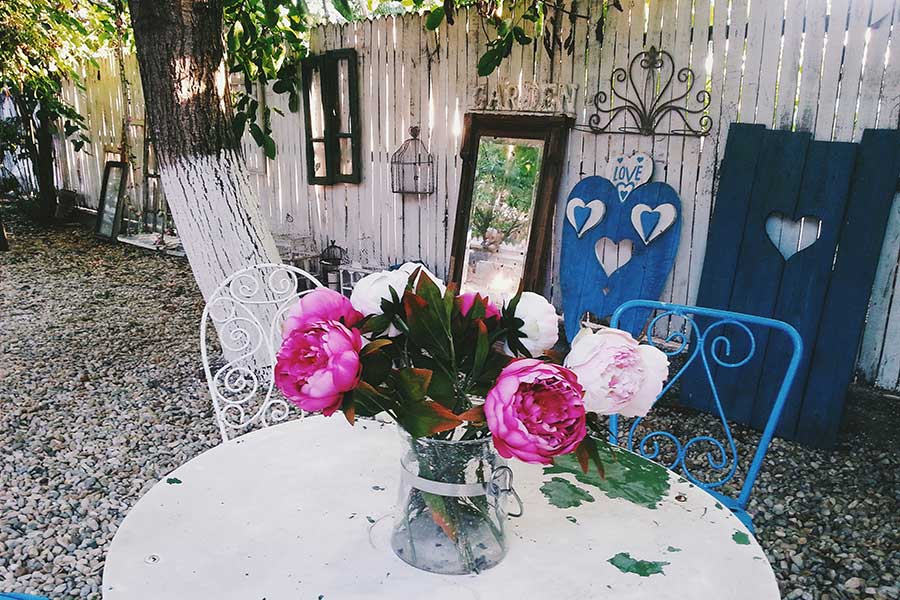 This doubling up is a similar trick to one used indoors by interior designers, usually to make a small room appear twice the size or to increase brightness in a space. Likewise, outdoors mirrors tend to work best in smaller spaces such as shaded courtyards or compact gardens.
If your garden is saddled with large bland walls, a mirror can offer an instant remedy. For example, you can instantly transform any gloomy corner by using a mirror to reflect planting and colour from another part of the garden, a mirror. It helps to go big – full-height mirrors applied to a garden wall can create the illusion of a "secret garden" behind the wall.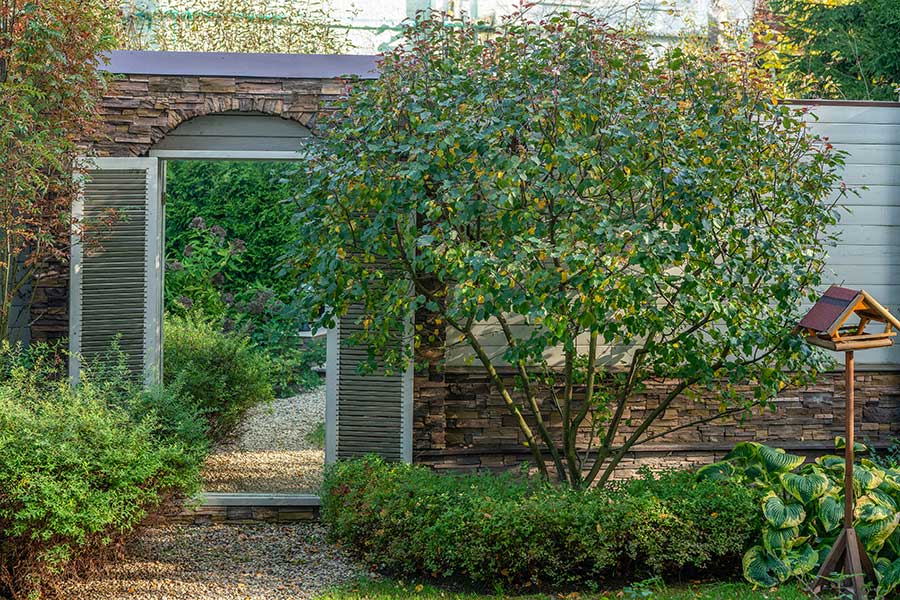 With any garden mirror, the framed vs unframed debate has no definitive answer. It all depends on your preferences. Generally, frameless glass lends itself to a "modern" style garden, especially when hung as a wall-mounted garden mirror. By contrast, framed mirrors lend more naturally to traditional garden stylings – but it is by no means a hard rule.
A few practical tips and safety advice for using garden mirrors
When using glass in the garden, certain rules must be followed that do not apply indoors. The first relates to direct sunlight: Do not place your garden mirror in direct sun. Reflected light and heat may present a fire hazard, particularly in summer.
Also be mindful of any children playing near the glass. A stray cricket ball, rock, or arrow can potentially crack or even shatter a garden mirror. At abc Glass, we can produce toughened garden mirror glass in our on-site toughening furnace, but inferior products may not stand up to abuse. As a rule, therefore, it is best to keep mirrors away from children's play areas.
It's not just children that can affect the placement of garden mirrors. Birds are another potential accident waiting to happen. Refrain from placing mirrors high up in your garden, as this may interrupt the flight path of our avian friends.
How abc Glass can help you
If you want to get creative with garden mirrors, you are in the right place. abc Glass can produce virtually any shape of unframed mirrored glass to suit your exact dimensions. While we do not sell garden mirrors "off the peg", our experts can easily craft mirrored glass for use in a garden. We specialise in both machine and hand-cut techniques, as this video showcases.
We can also help you fashion upcycled garden mirrors from old windows or picture frames with a made to measure mirror – call it a "bring your own frame" service!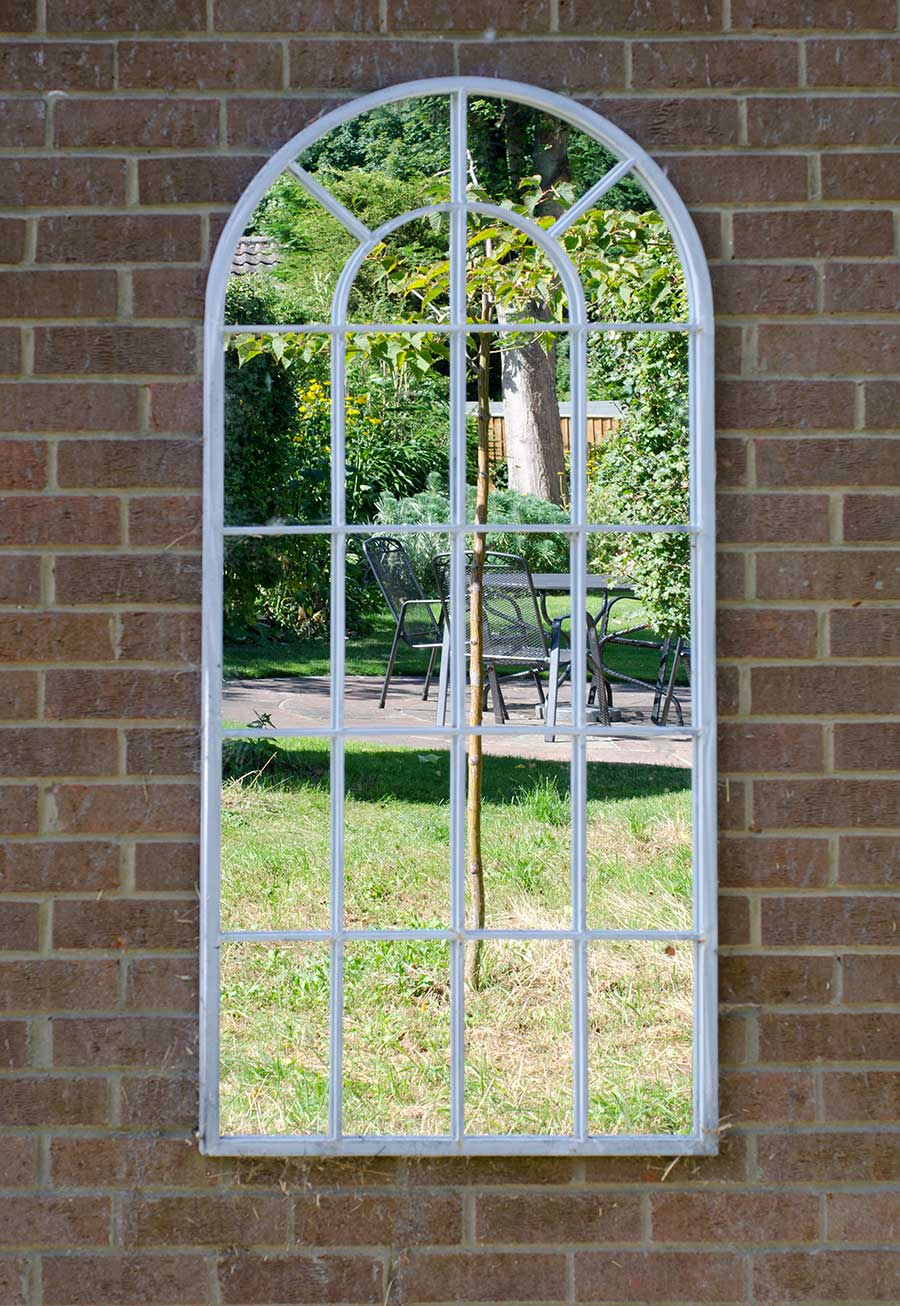 We also offer antique-style mirror glass with a neat and safe polished edge. Its surface boasts a lovely warm, distressed effect that creates a beautiful reflection at night when your garden lights are turned on.
For questions about abc Glass's glass processing services for garden mirrors, please reach out via the contact page. Our experts will help you figure out what kind of service and product is best for you project. We can produce framed or frameless mirrored glass to any specifications from scratch, as well as work to a frame that you already have.