This year's Chelsea Flower Show brought use of glass in the garden to the vanguard for landscapers, property developers and have-a-go gardeners alike. Incorporated into various garden designs, which spanned silver to gold medal winners, the RHS' most prestigious annual show revealed how glass walls, glass balustrades and feature lighting especially can add wow-factor to contemporary outdoor spaces.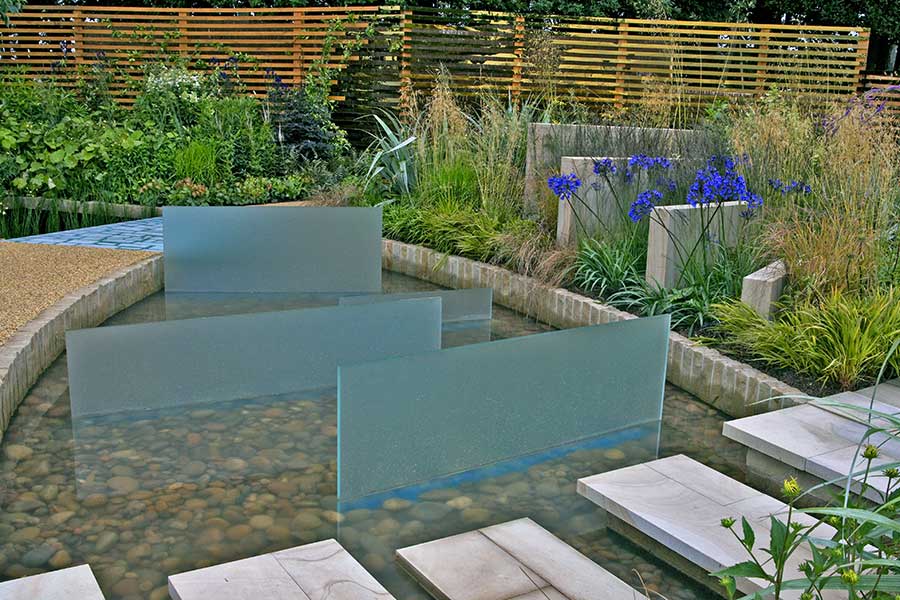 While abc Glass Processing makes the likes of glass partitions, glass balustrades and balconies, glass staircases and floors, glass table tops and glass mirrors that could be used in the garden, our glass aficionados appreciate there are a fair few other uses for glass in all its glory alfresco. Here's a look at some of those uses with some suggestions of how you can get the most out of glass in the garden.
Glass elements that add elegance to the garden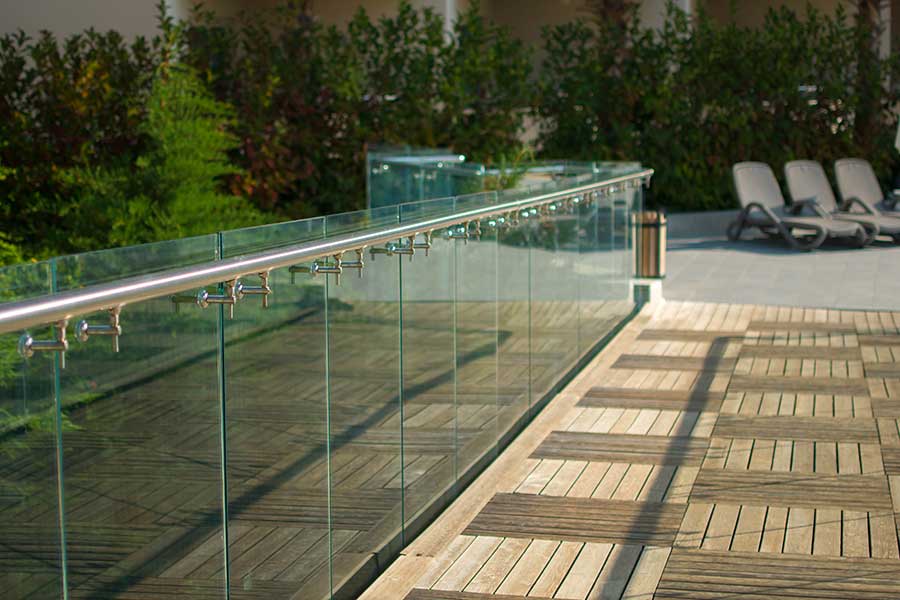 Walls and balustrades – Achieve structure and multiple levels in the garden with glass walls and glass balustrades without interrupting views or messing with the aesthetics of the planting. More fluid that bushes and trees, glass partitions are also excellent for zoning and creating boundaries.
Mirrors and mirrored glass – Excellent for making smaller outdoor spaces seem bigger and for allowing light and colour to bounce around the garden, cleverly placed mirrored glass can also help create symmetry and extend the visual reach of your favourite plants and features.
Feature lighting – There are so many options for smart outdoor lighting, from eco-friendly solar lighting to fun and vibrant fairy lights, to choose from. But you should always make sure from your lighting supplier that your chosen lights are safe for outdoor use.
Water features – Whether you incorporate a glass wall to reflect water droplets and ripples or you choose a glass pathway over a pond for a wonderful walk-on-water effect, glass can be a fabulous addition to a water feature.
Art and sculptures – When it comes to glass sculptures and art for your garden, don't just look to buy something to fill a space. Buy a piece that you form a connection with on sight – it should tell a story in 10 years' time so that it's still relevant to you and your space. Pick one statement piece or several smaller pieces that can placed throughout a larger plot to be found and enjoyed.
Let's take a look at how some of these glass in the garden ideas were used to great effect at Chelsea Flower Show 2019:
The Greenfingers Charity Garden – Show Garden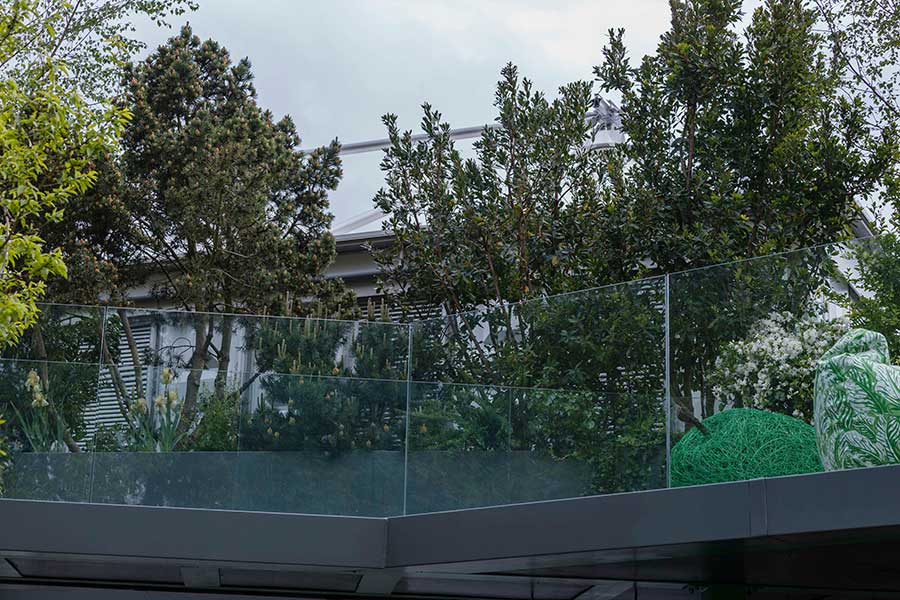 Image courtesy of RHS / Neil Hepworth
Built by Kate Gould Gardens, this Silver Gilt medal winning garden shows how glass balustrades can be used to add practicality and panache in an outside space. Over two levels, the garden was deigned to be a calming sanctuary and fortifying refuge:
"The innovative garden design aims to highlight and promote the therapeutic benefits of the 56 outside spaces created over the past 20 years by Greenfingers Charity, the charity dedicated to creating inspiring gardens for life-limited children and their families who spend time in hospices across the UK" – The RHS.
With a central planting border of dominant yet tranquil green, white and yellow tones, the lower level also features tiles and architectural elements that carry the green theme through.
The top deck can be reached by a lift constructed of glass walls with green metal framing to stay in perfect keeping with the garden's theme. This means that the garden is not only accessible to all but visitors can enjoy the garden from all angles and heights with unrestricted views and the lift structure itself doesn't compromise the design scheme.
On the top level a frameless glass balustrade has been chosen that provides safety and, again, unrestricted views. What's really skilful is that the glass balustrades don't distract those looking up from the lower level towards the beautiful medlar and silver birch trees behind, chosen for the structural beauty as well as their shade from the sunlight.
IKEA and Tom Dixon: Gardening Will Save The World – Show Garden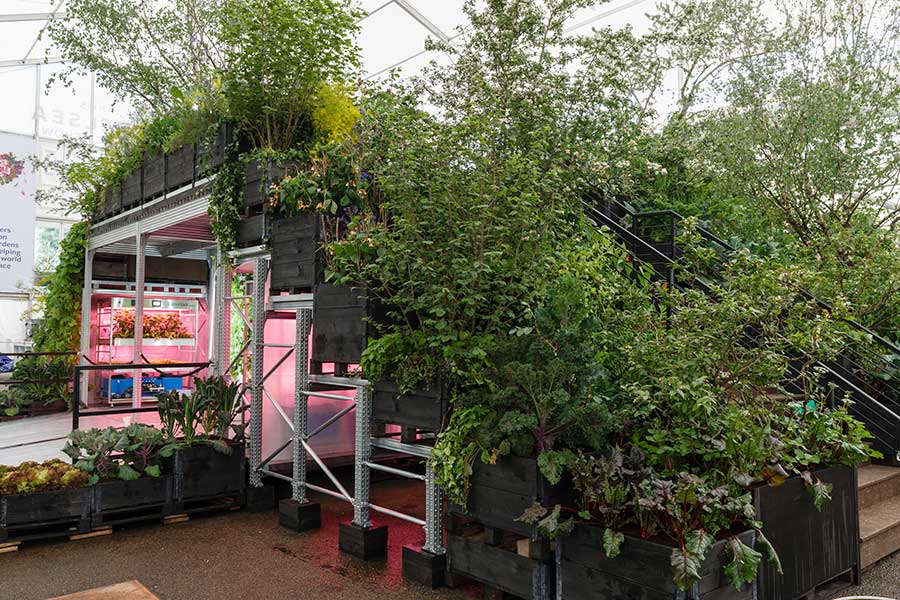 Image courtesy of RHS / Neil Hepworth
Again set on two levels, this garden was more controversial in design than other 2019 entries but meaningful in its environmental message:
"The garden showcases the potential for democratic and distributed urban farms and considers the future of the environment and the importance of growing food locally" – The RHS.
A partnership between Tom Dixon and Ikea that was unusually designed to be walked through by Chelsea visitors, the top level offers a wilder "botanic oasis". While the lower level of this futuristic garden is super neat and ordered. It's also dedicated to showcasing edible plants grown using hydroponic technology under soft pink lighting.
The pink glow has a job to do here but the effect is very pretty, warm and welcoming. This just goes to show that feature lighting, or carefully placed coloured glass that changes tonally with natural sunlight, can be a clever way to glam up your garden.
Green Switch – Artisan Garden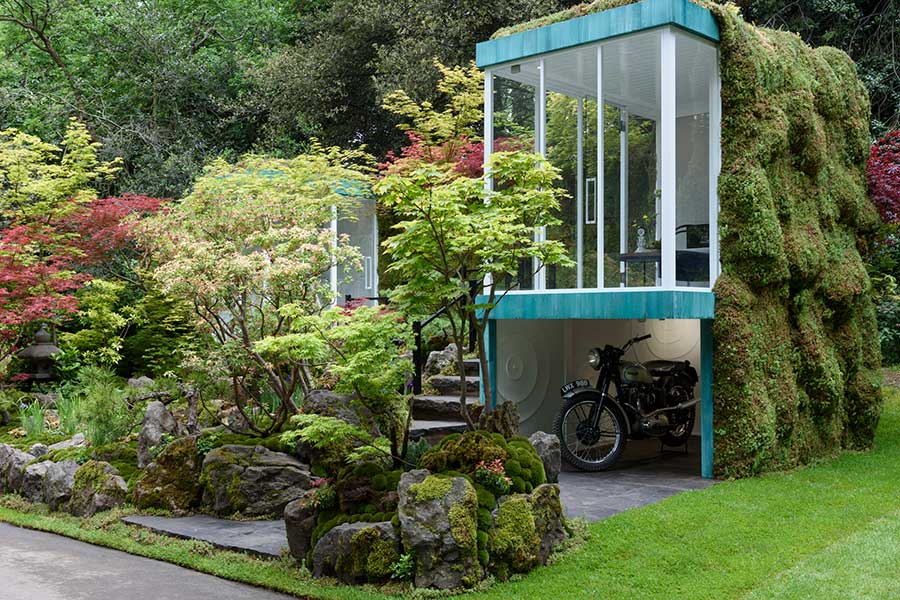 Image courtesy of RHS / Tim Sandall
Kazuyuki Ishihara's gardens are always a treat to behold and this one was no exception. Drawing on his cultural roots for the planting – with all the Japanese classics from maples to moss balls – this year's entry explored how modern life and ancient traditions can still work side-by-side:
"The 'green switch' represents the space we inhabit when we 'switch off' from the stresses of contemporary urban life and seek the things we like to do, such as spending time in nature" – The RHS.
Another two-storey garden design, the top level showcases glass in the garden perfectly. On the left a modern shower room constructed using glass walls is surrounded by soft planting for privacy. To the right, is a tea room (a nod to Japan's traditional tea gardens) but again glass walls are used for a contemporary yet open feel.
The light-infusing, space-enhancing, mirror-like theme is continued to the lower level where two waterfalls and a rippling pond reflect the surrounding plants and top up the garden's sensory appeal.
Gorgeous glass garden products from abc Glass Processing
To find out more about our glass partitions, glass balustrades and balconies, glass staircases and floors, glass table tops and glass mirrors for use in your garden design or landscaping project, or to get a quote for any of our glass products, please contact us today.