A simple sheet of glass holds so many possibilities. For our glass processing experts, glass offers the opportunity to utilise both modern and traditional methods to process glass and create stunning glass solutions for homes and commercial spaces.
But have you ever wondered what happens to glass, step-by-step, as it's processed? In this article, we'll take you on a quick journey through our factory and manufacturing processes to show you how we process glass. From advanced cutting and shaping methods to stylistic touches such as sandblasting and back-painting, our factory does it all.
Stock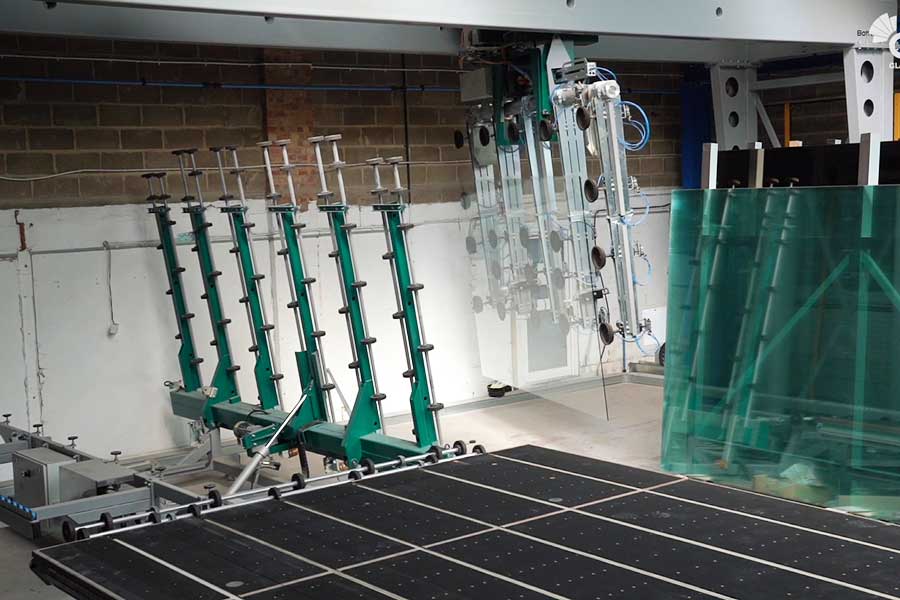 At abc Glass, we specialise in glass processing – which is different from creating glass from scratch. (If you want to learn how the latter is done, read our guide to how glass is made.) As such, all our products start life as a large, untoughened sheet of glass called "float glass". Each sheet is 4m square in size, ranging from 4mm to 19mm in thickness. We also stock ultra-clear glass, coloured glass, mirrored glass, and fire glass for more specialist projects.
This video shows how float glass is stored and moved using an automated system in our Portsmouth factory. When a project starts, we utilise a state-of -the-art robotic machine to pick each sheet and carry it to the production line.
Cutting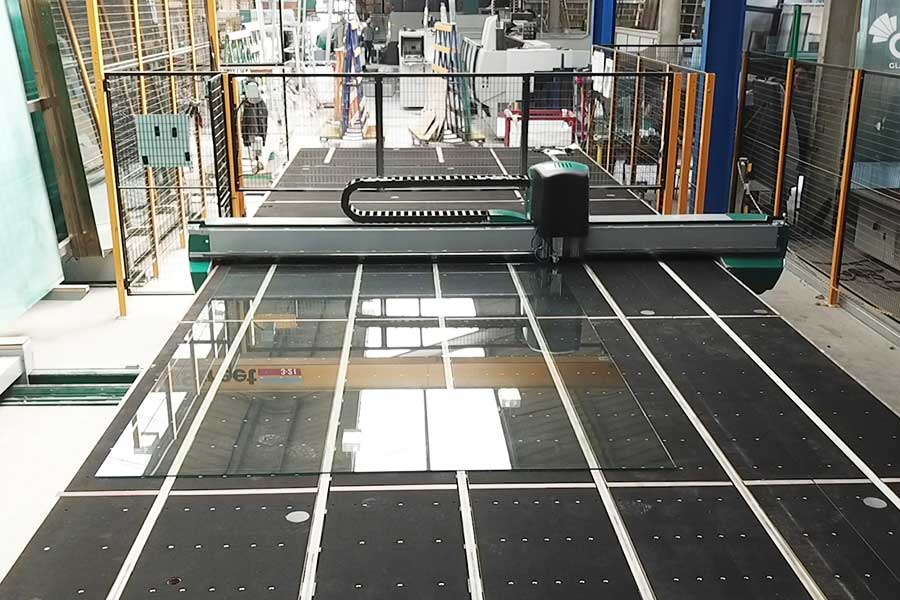 Our technicians enjoy cutting intricate glass shapes by hand, the "traditional" way. However, for the vast majority of our customer orders, we instead use a state-of-the-art glass cutting system. This behind-the-scenes factory video shows how it's done.
The automation process follows several steps. First, a program calculates the most efficient layout for cutting individual glass orders from one sheet of float glass. Next, the system selects the correct sheet of float glass before loading it into the cutting table. A machine then cuts each piece of glass to perfect precision, keeping waste to a minimum. Finally, an automated cutting head scores the glass.
Our technicians are still required to split each batch by hand. They also double-check every piece before we process glass to ensure the specifications are 100% accurate, as even the slightest error can prove costly.
Machining and shaping
Depending on the customers requirements,to process glass, we may also need shape or drill it. Glass partitions and glass shower screens, for example, require holes for components such as handles and hinges to be fitted during installation.
For this specialist job, we use a mix of computerised numerical cutting (CNC) and waterjet technology. Our technicians can shape, drill, and add detailed cut-outs to a piece of glass to suit any application. Both our flat-bed and vertical CNC machines make this process a piece of cake.
Polishing, bevelling and sandblasting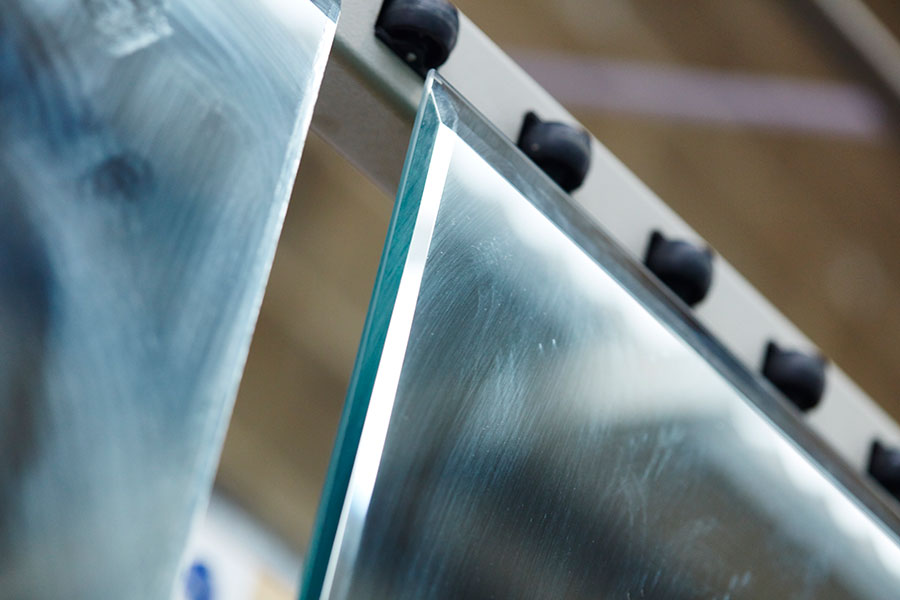 Edge polishing is often the final stage in the initial glass processing. We take care to eliminate any sharp or exposed glass edges, especially in our frameless shower enclosures, tabletops, and wetroom screens. To achieve this, our experts use a machine to polish the edges of the glass, leaving a neat and safe finish. We also offer a bevelled edge service for mirrors.
As for glass sandblasting, we are adept at applying simple techniques that result in the utmost privacy. Shower screens, balustrades, and interior partitions are just some of the products we produce that lend themselves to an obscured or frosted finish. To create the effect, our technicians can either by sandblast or acid-etch the glass. We then process glass with a coat of ClearShield to protect from grease and dirt.
Toughening and laminating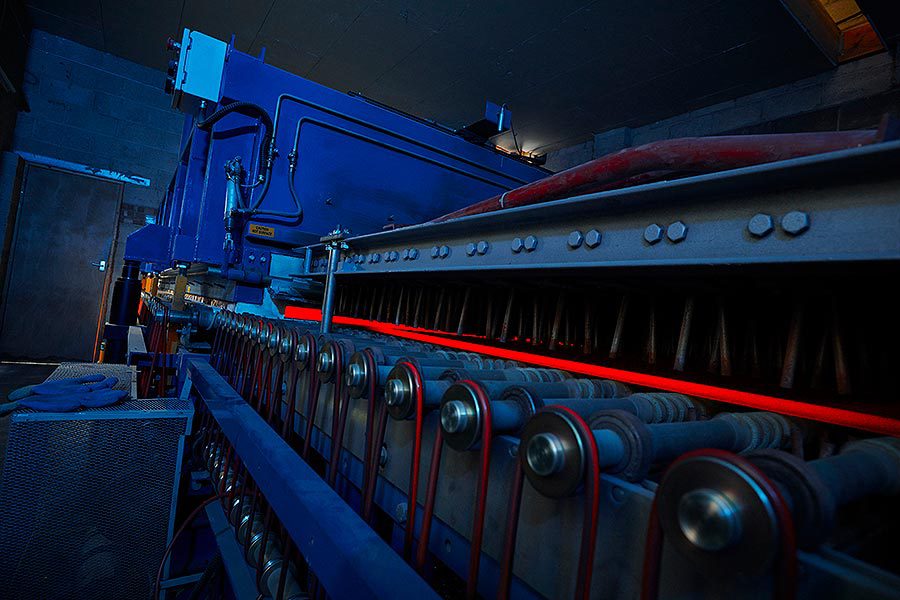 Once all processing steps are finished, the final stage is to toughen or laminate the glass. For toughening, we heat each glass product to over 600°C in our Glaston toughening plant. This ensures that all toughened glass from our production line meets the British standard EN12150.
For lamination, our advanced Pujol laminating plant produces laminated glass in thicknesses ranging from 4mm to 19mm. This type of glass is ideal for safety-first applications such as balustrades, balconies, glass floors, and staircases.
Painting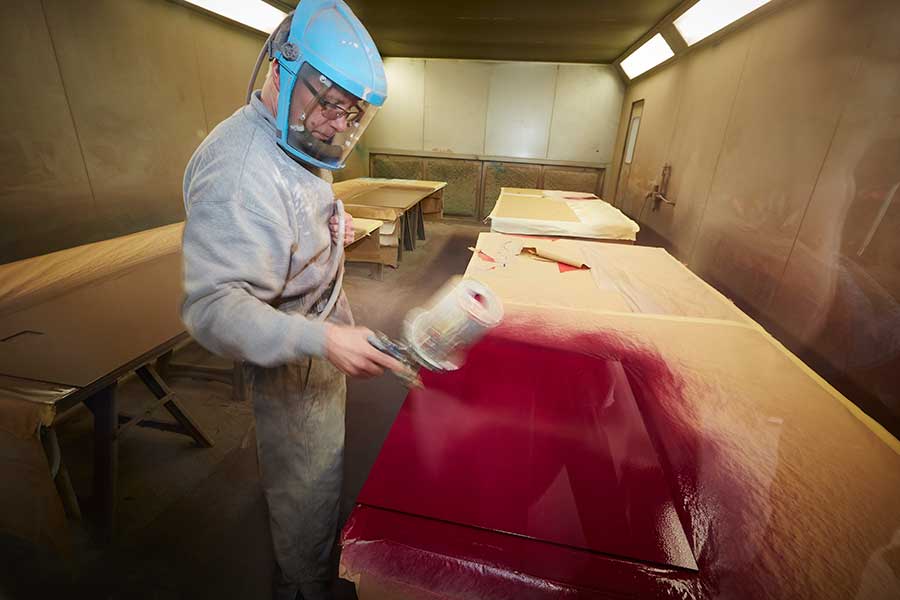 For a dash of style, back-painted glass can't be beat. This step comes only after we process glass and toughen it. The customer chooses their preferred RAL colour, which we spray onto the glass before baking it and applying a protective aluminium coat.
Delivery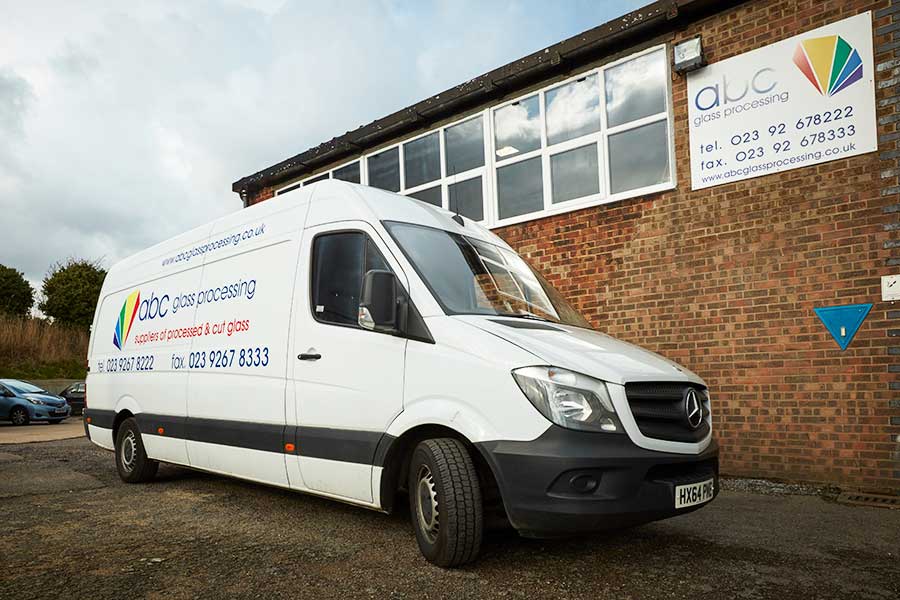 The final step is, of course, transporting the glass from the factory to our customers. We offer a free delivery service in the south of England – check out the map to see if you're in our area. Customers can also collect their processed glass from our Portsmouth HQ.