Internal frameless glass doors are a mainstay of modern offices, hotels, and commercial buildings. Now homes are getting in on the act. Luxury glass doors can transform any mundane room entry into a modern, luxury spectacle – and interior designers are now preaching the glass gospel to their homeowner and developer clients.
Consisting of internal hinged or sliding doors made from single sheets of 8 or 10mm frameless toughened glass, these doors offer style and versatility in abundance. In this article we will look at some of the reasons why frameless glass interior doors are so popular, and explore some ideas for how these doors can be used in the home.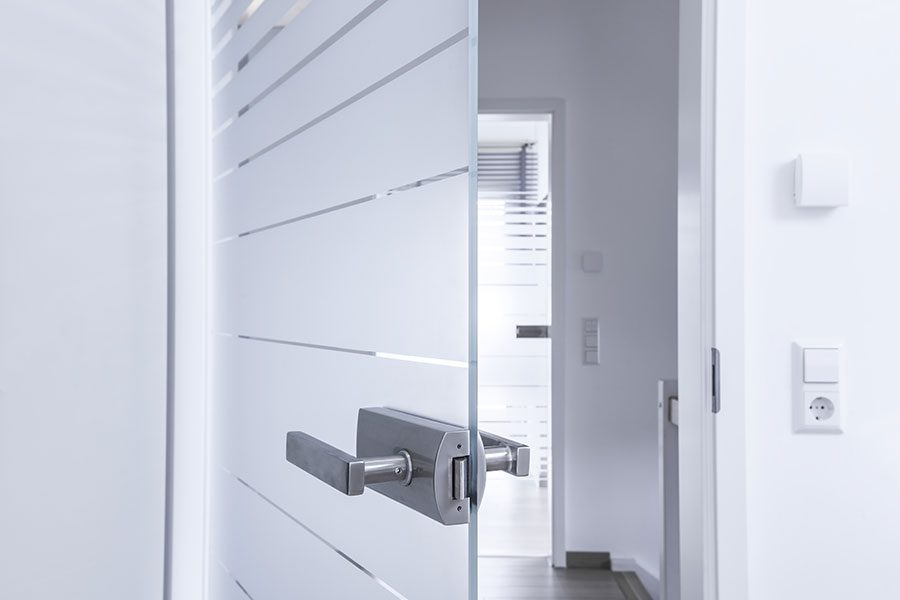 The benefits of internal frameless glass doors
Internal glass doors let in more natural light – perhaps the most obvious design benefit. Another plus-point is that glass doors serve to "open up" any room or space. It's a simple trick of the eye: Clear glass creates the effect of the room being larger than it actually is. This offers a great alternative to open-plan designs, which can add unwanted cost and complexity.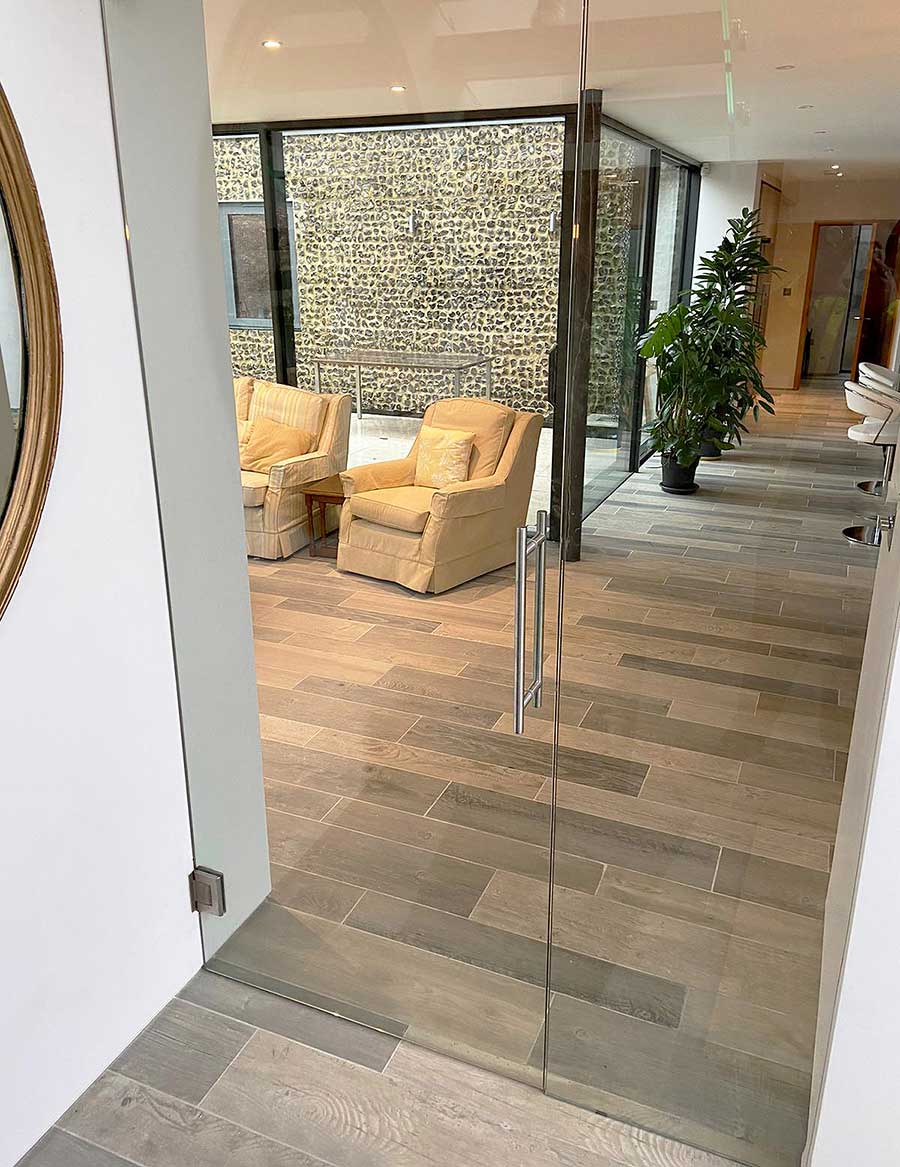 Frameless glass interior doors can also be used as part of a glass wall to partition spaces without blocking light or obstructing views. They are a natural option for showers, wall partitions, and any other space where a continuous glass look is called for.
Glass doors are also easy to clean and maintain. They require no painting or staining – all you need is a run-of-the-mill glass cleaning liquid and a cloth to keep the glass clear and sparkling clean. (For extra clearness, it might be worth investing in low-iron ultra-clear glass.) Durability is yet another plus-point – internal frameless glass doors can be toughened or laminated by glass processing experts such as abc Glass.
If you're less keen on the modern look of a clear glass door, one solution is at hand. Frosted (or sandblasted) glass doors offer privacy while still allowing plenty of extra natural light into a room.
What are the benefits of frameless glass interior doors?
Internal frameless glass doors can be used practically anywhere inside the home. Here are the four most popular applications:
Bathroom and cloakroom doors – Many bathrooms, and especially cloakrooms, suffer from a paucity of natural light. Internal glass doors help to remedy this, and can be sandblasted for privacy. They are also well suited to ensuite bathrooms, where there may be limited space to open the door into the bedroom.
Alternative to wooden doors – These are better suited to communal rooms such as lounges, dining rooms, kitchens, home offices, home gyms, and indoor swimming pools. They are less suited to bedrooms or anywhere total privacy is required (except bathrooms.)
Entrance to walk-in closets – These are for when space is at a real premium. Using a frameless glass hinged or sliding doors for a walk-in wardrobe or closet solves the space issue while stylishly showcasing what's inside.
Part of a glass wall/partition – Perfect for larger spaces that can accommodate a showstopping glass wall or partition. Ensuite bathrooms are a prime example – designers can easily create an ensuite by dividing a large bedroom with a sandblasted glass wall and integrated frameless door. Other possibilities include luxury spaces such as a home gym, indoor swimming pool, or library.
What glass styles are available?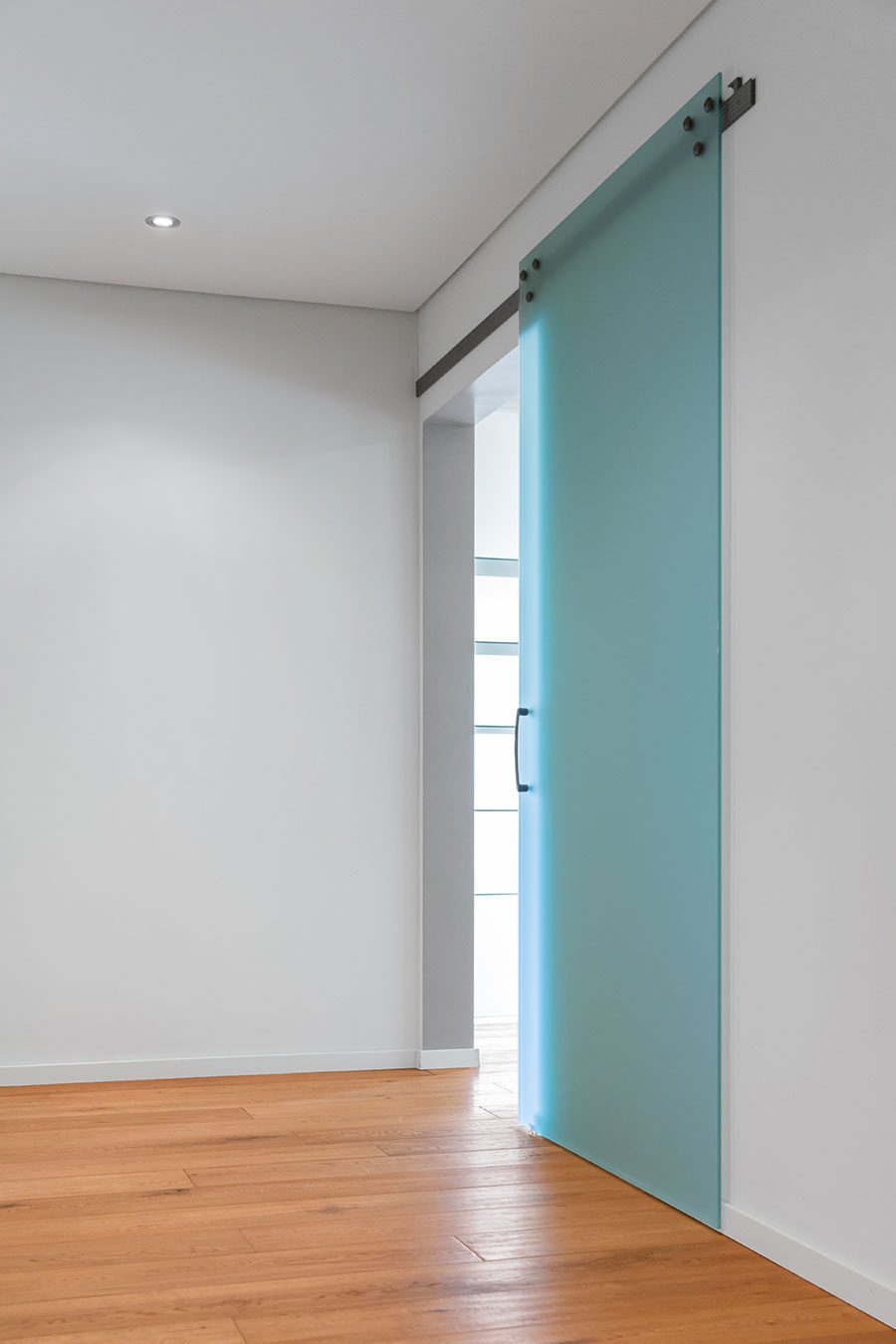 At abc Glass, we can produce a range of glass styles for internal frameless glass doors. This includes the option of standard clear glass, low iron ultra-clear glass, and fully or partially frosted/sandblasted glass. For part-frosted glass, we offer a wide variety of styles: anything from panels or blocks on the glass to intricate patterns.
If you have any questions about our frameless glass door service, please get in touch. Our glass technicians will be happy to guide you through the various options, as well as answer any other questions you may have about any of our glass processing services.