Are you looking to freshen up your interior with just a single piece of furniture? If so, glass table tops are an ingeniously simple way to add sparkle to a living room, dining room, or bedroom. And with bespoke sizes, shapes, and finishes on offer, abc Glass's glass table tops service is the smartest route to a sleek, stylish, and robust piece of furniture.
Why should I invest in a glass table top?
The first and most obvious benefit of a glass table top is resilience. As a material, toughened glass offers an extremely high level of protection against impact damage and scratches. It is also stain-resistant – no more frantic cleaning up after spilt wine or food.
Aside from preventing scratches and stains, glass table tops offer a hygienic surface that is quick and easy to clean. This is good news if, like us, your awareness of surface hygiene has been sharpened as a result of Covid-19. For glass table tops, simply wipe down the surface with a microfibre cloth and the occasional spray of glass cleaner.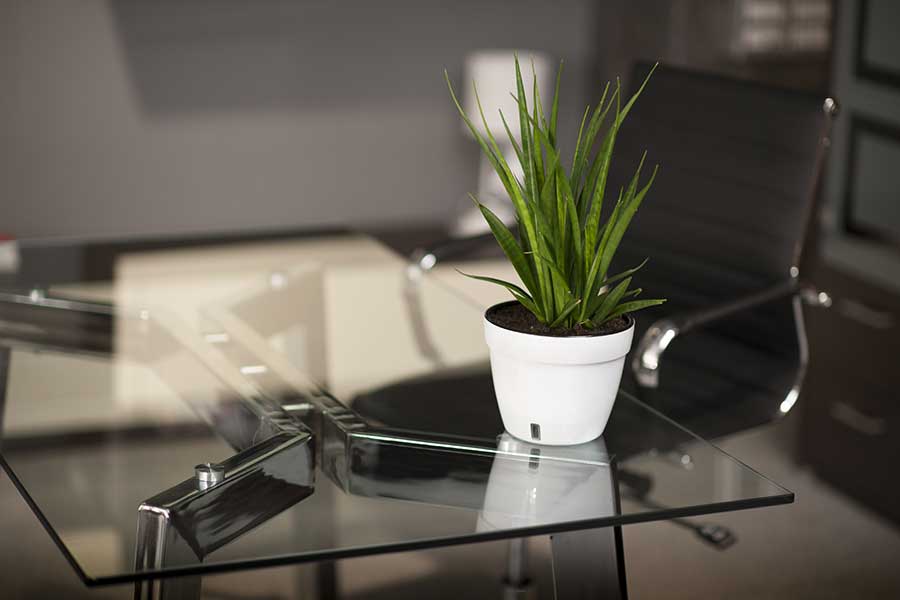 Looks are important, too. By their nature, glass table tops are remarkably thin – this means a sleek, modern appearance that trumps any wood or marble counter. As for the exact thickness, we recommend 12mm for small glass tables (by "small" we mean glass coffee tables and glass side tables up to 1000x1000mm.) Larger glass tables, such as dining tables, are best manufactured in a thickness between 15mm and 19mm.
And there's more: Glass table tops can be tinted to protect against UV damage – handy for tables near a window that basks in plenty of sunlight throughout the day.
What is a table top protector?
A table top protector is a simple sheet of toughened glass, usually 4-6mm in thickness. It sits directly on top of a table or cabinet top to protect the surface from impact damage, scratches, and liquid spills. Just like a regular glass table top, glass protectors can be tinted to offer protection against harmful UV rays.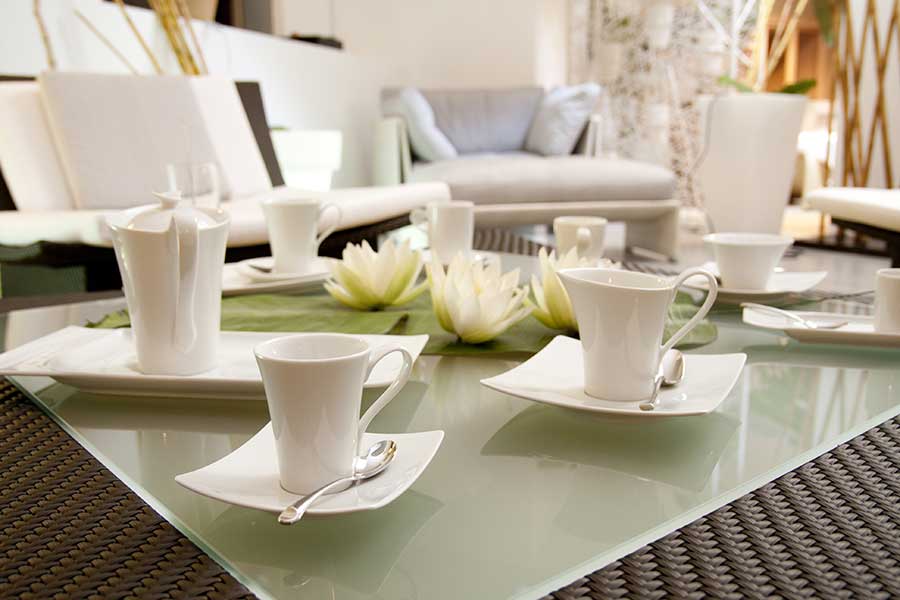 The material of your table doesn't matter: Whether made from wood, marble, or another delicate material, any table or cabinet can be fortified with a glass table top protector. The glass sheet offers the exact same advantages of a regular glass table top – attractive, easy to clean, and resilient.
Another word on size – the thinnest glass table top protector, at 4mm, is only offered for glass sheets up to 1000x1000mm in size. For anything larger, the thickness can go up to 6mm.
Does abc Glass offer bespoke sizes, shapes, and finishes?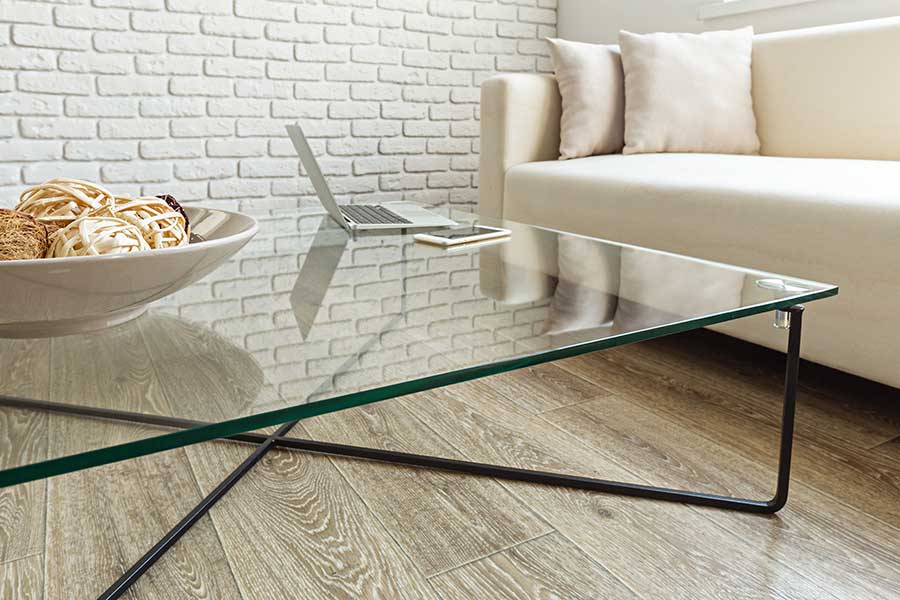 Of course! Our technicians specialize in precise cutting and shaping of glass to meet virtually any dimensions. For glass table tops and glass protectors, we use advanced CNC and waterjet technology to cut and shape a glass sheet. We can also add holes and cut-outs to accommodate fixings. As standard, the edges of the glass are polished to result in a neat, safe, and attractive finish. We offer square and radius corners, as well as an optional beveled edge.
As for the glass table top options, we offer four styles:
Standard clear – our basic, most commonly-used glass sheet
Ultra-clear – a low-iron glass that gives an exceptionally clear appearance without the slight green tint found in standard clear glass
Grey tinted – perfect for glass table top protectors, as UV rays are blocked out
Frosted – a classic sandblasted effect
What abc provides (and what we don't provide…)
We offer brand new and replacement glass table tops and glass table/cabinet top protectors. For table tops, we only supply the bespoke glass top piece; we do not supply other table fixtures such as the legs, feet, or skirt.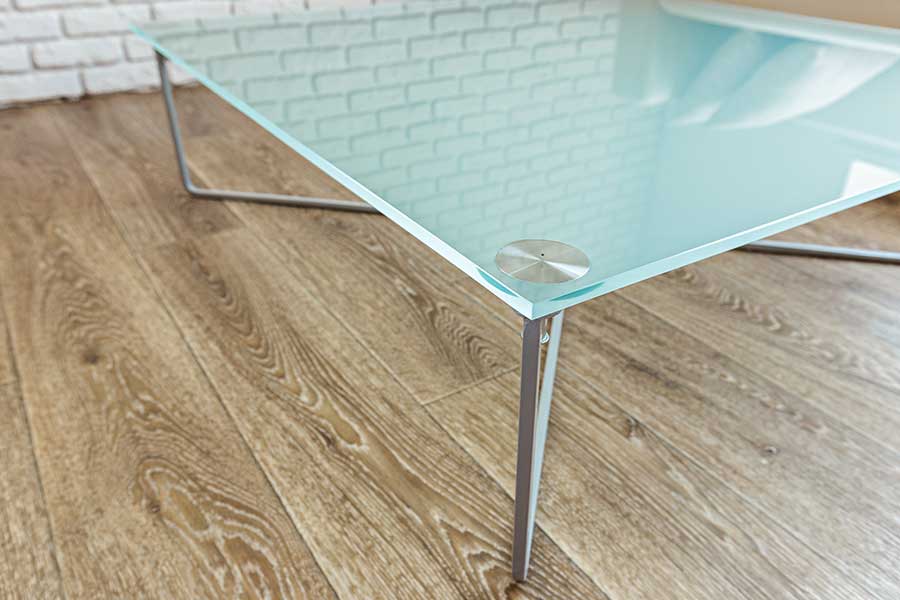 If a glass table top or protector sounds up your street, get in touch with abc Glass. We offer 25+ years of experience in producing high-quality glass sheets for tables and table top protectors. Our friendly staff will be happy to answer any questions about glass table tops, or indeed any of our glass products.