Glass flooring is a key component of some of the world's most famous buildings. Think of the death-defying platform atop Toronto's CN tower or the glass panels above the ruins of the Acropolis. Then there's our personal favourite: the glass-bottomed bridge in the British Museum's Great Court.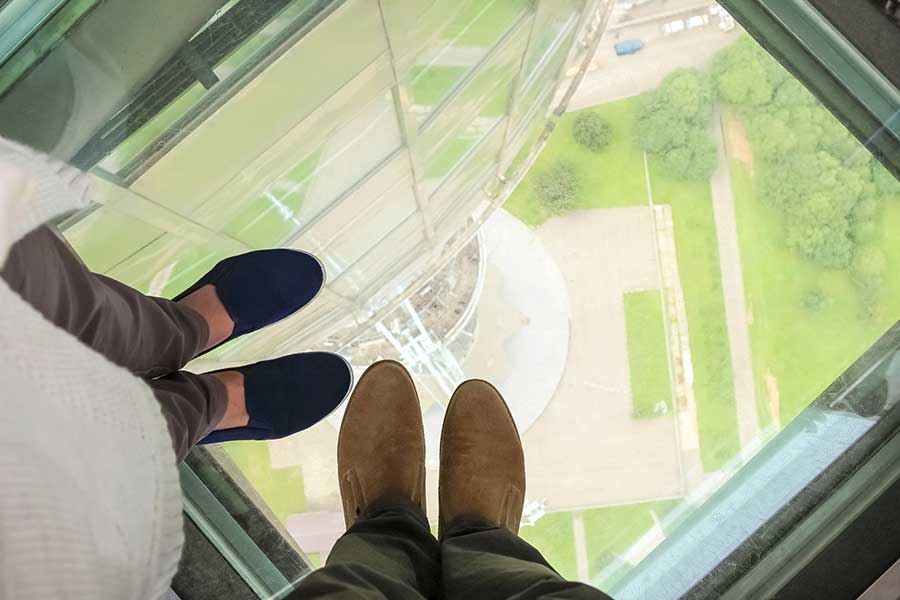 However, the future of glass flooring lies not with nerve-jangling attractions but with domestic and commercial spaces. Homes, offices, shopping centres, and hotels are leading the trend for new glass flooring and glass staircases. This trend grows as interior designers look for new ways to "open up" spaces to the fullest extent.
4 great uses for glass flooring
Designers need to choose carefully which spaces deserve a glass floor. After all, too much glass can spoil the magic. But when used correctly, laminated glass flooring is a stunning option for these four features:
Stair treads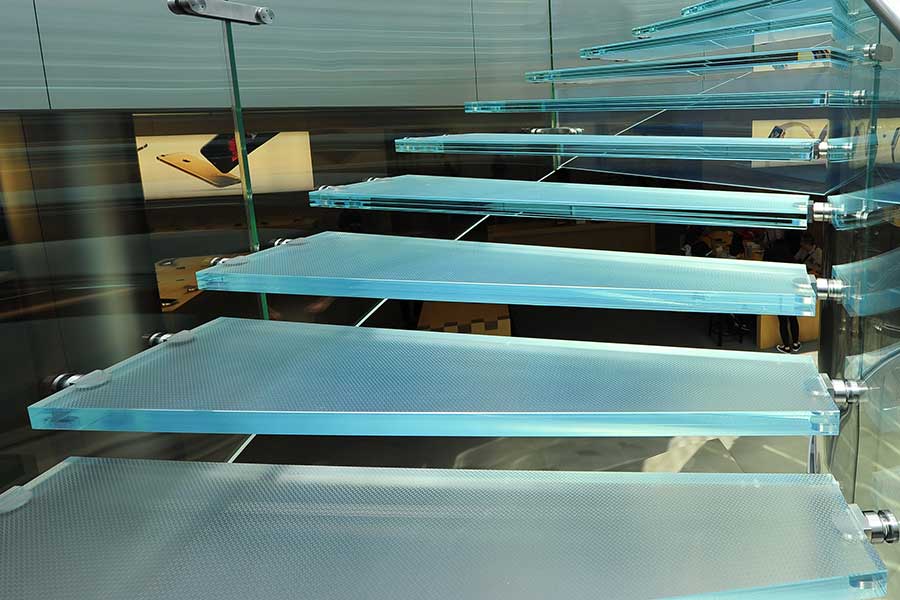 You cannot have a glass staircase without a stylish and structurally sound set of glass stair treads. A notable example is the majestic spiral staircase in Hong Kong's IFC Apple Store. Closer to home, abc Glass can produce glass stair treads in many different shapes and styles.
Suspended walkways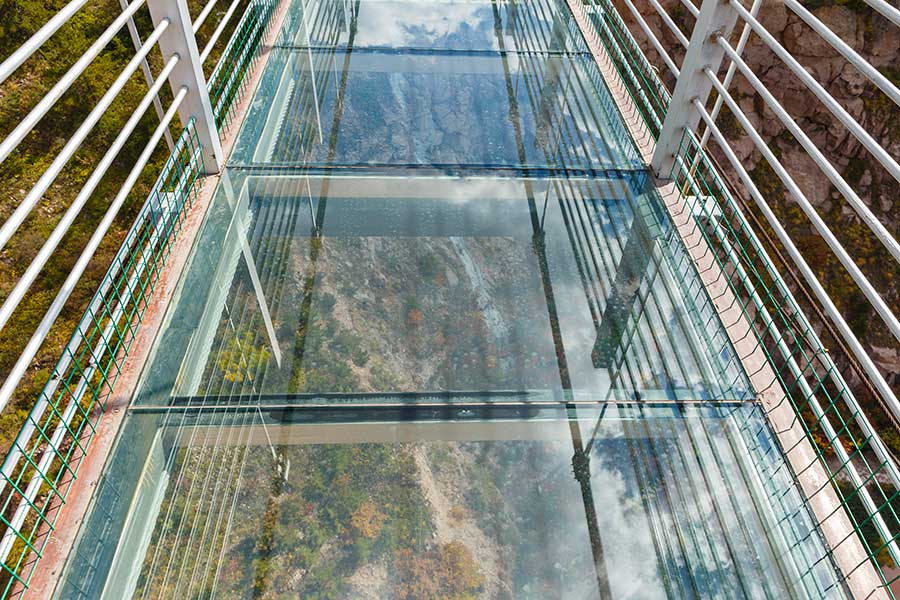 A great option for showing off a building's architecture. Popular for heritage buildings such as church, warehouse, and barn conversions. And did we mention how much we love the bridge in the British Museum?
Decorative structural glass panels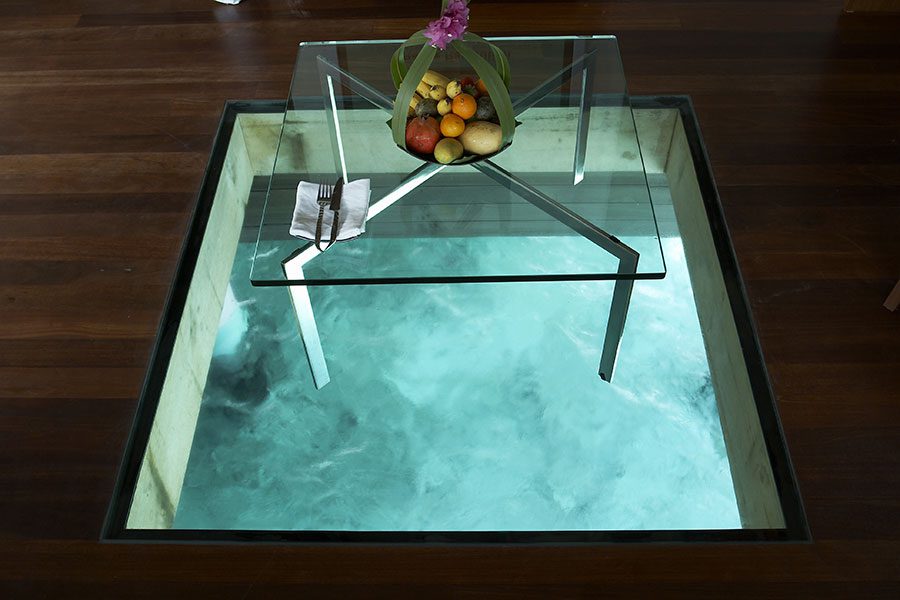 These come in all shapes and sizes, from small "trap-door" glass panels to vast displays that cover a whole floor. Ideal for letting light flood in to a lower floor or basement.
Glass balcony floors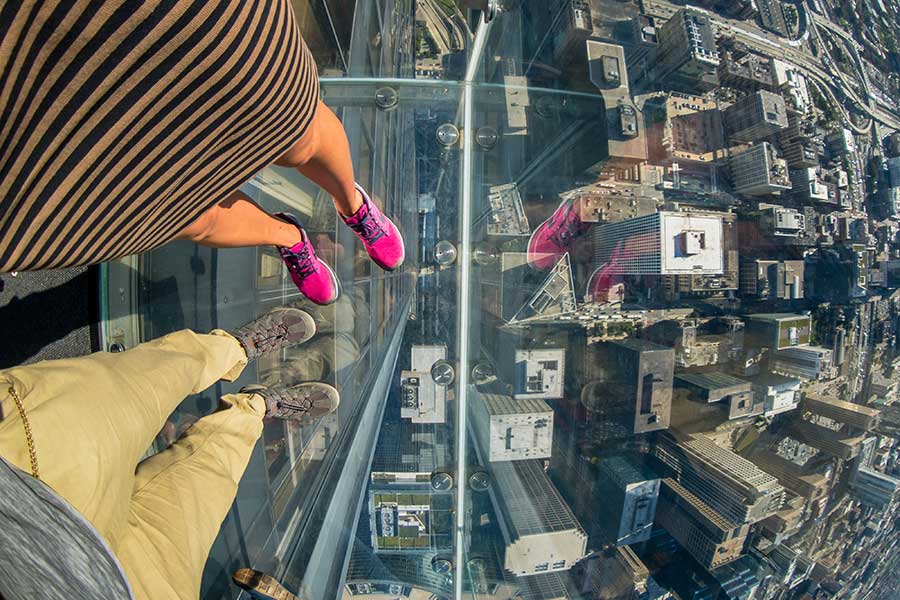 Not for the feint-hearted! Brave homeowners and designers are embracing glass balcony floors for the exterior of a house. The results are often stunning.
How is glass flooring made?
Glass flooring and stair treads are made by laminating together sheets of toughened glass. At abc Glass, we combine three 10mm sheets of glass with either a 0.75mm or 1.5mm interlayer. This results in a remarkably strong sheet of glass that is safe to walk on. It goes without saying that all our glass flooring is made to British Standards (BS EN 1991-1-1).
What's more, our technicians can work to custom measurements and DFX files for all kinds of spaces. We use the latest CNC and waterjet machines to cut, shape and drill glass flooring to a precise design. With a minimum thickness of just 31.5mm, we can theoretically process glass flooring up to 3000x1000mm and 1500x1500mm in size. That said, we advise that the actual thickness and loading of your panel be calculated by a structural engineer and, for safe manual handling, a maximum panel weight of around 200kg is advised.
What different styles of glass flooring are available?
Again, there are plenty of paths you could follow, each with their own merits. For maximum slip-resistance we suggest a frosted or sandblasted finish. We also offer clear, tinted, and decorative styles for areas such as lightwells where a frosted finish would be unnecessary. All of these styles can be combined with glass balustrades for the ultimate glass interior.
If you have any questions about glass flooring or glass treads for your next project, please get in touch. We offer delivery across the south-east of England, both to merchants and directly to site.